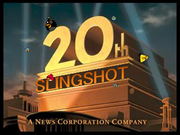 20th Slingshot is a division of 20th Century Fox that produces films, series exclusively for Rovio's Angry Birds. It's original owner was RainbowBird, but due to unexplained problems ( Some people believe he just left, but it was NOT confirmed. ), he given his role to Redbird07, who made several big changes to the company.
All animated series, including movies, commercial productions, ads, plushies from their company, pay-to-watch-the-movie stands and TV shows MUST be licensed to 20th Slingshot due to the Digital Millennium Copyright Act Rule 188.5 / Short Resume: "If the content made by the original producer can be remade, modified, or inspired; they need to license their products under the producer's company to avoid Copyright Infringements. *
Series, films produced
If you would like a film added, ask in the comments, ask in the Redbird07 Films comments or ask Redbird07 on his message wall.
Community content is available under
CC-BY-SA
unless otherwise noted.