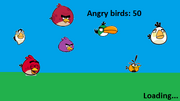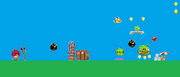 The birds had an emergency when King Pig has destroyed Blue Bird and plans to destroy all other birds. Fortunately their eggs hatched, and the birds have to stop the green-skinned pigs without legs!
Episodes
Birds World Attacked
Troubled Skies
Breakfast For Dinner
Jingle Birds
It's About Swine!
The Big Setup
We Can Fly! In a Plane...
Finale
Birds
Red Bird - Screams
Yellow Bird - Speeds up when tapped
Black Bird - Explodes when tapped
White Bird - Drops an egg bomb when tapped
Big Brother Bird - Moans
Boomerang Bird - Acts like a boomerang when tapped
Orange Bird - Inflates when tapped
Ice Bird - Turn blocks and pigs into ice when tapped
Pink Bird - Blows bubbles when tapped
Time Bird - Makes things go in slow motion when tapped
Big Orange Brother Bird - Inflates bigger than orange bird when tapped
Purple Bird - Acts like a boomerang when tapped
Puffin - Flies when tapped
Drill Bird - Acts like a drill when tapped
Racketball Bird - Bounces 3 times when tapped
Hawk - Extremely strong
Grenade Bird - Drops a grenade
Basketball Bird - Shoots orange eggs but out of his beak
Lavender Bird - Floats and explodes when tapped
Machine Gun Bird - Shoots bullets when tapped
Mud Bird - Shoots mud when tapped
Midnight Bird - Kills all the pigs faster when tapped
Muna - Drops eggs based on number of taps
Pinky (Goggle Bird) - Sings High Note, causing pig in One Inch of the Screen Radius to Explode
Baby Pink Bird - Turns into plasma within smaller range
Zombie Red Bird - Screams
Gray Bird - Mocks the nearest pig
Suite Bird - Drops a pink egg bomb
Gemini Bird - Clones into a 100s and 1000s of birds
Kimono Bird - Hooks onto other objects
Mighty Eagle - Mass destruction
Deadly Bird - Even better destruction than Mighty Eagle
Pigs
Community content is available under
CC-BY-SA
unless otherwise noted.