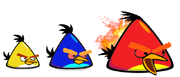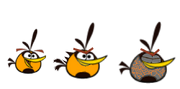 This is a new game released on May 1, 2013. You can upgrade your birds after completing 15 levels in the game.
Birds
First Phase → Second Phase → Third Phase (→ indicates a bird getting upgraded.)
Red Bird → Furious Bird → King Red
Blue Bird → Super Splitter Bird → Infinite Multiplier Birdie
Yellow Bird → Speed-o-light Harm Bird → Doom Killer Bird
Black Bird → Super Exploder Bird → Destucto Blaster
White Bird → Egg Smash Basher Bird → Infinity Egg Birdie
Boomerang Bird → Come-back Attack Bird → Behind-your-back Death Bird
Big Brother Bird → Iron and Steel Bird → Tough Guy Bird
Orange Bird → Super Balloon Birdie → Lava Lock Birdie
Ice Bird → Frosty Birdie → Blizzard King
Pink Bird → Bubbly Birdy → Bubble Bubble Queen
Matrix Bird → Bigger Binary Bird → Hypno-master Bird
Silver Bird → Lightning Looper Bird → Three-Sixty Trailblazbird
Pigs
Small Pig
Medium Pig
Large Pig
Helmet Pig
Moustache Pig
King Pig
Fat Pig
Community content is available under
CC-BY-SA
unless otherwise noted.