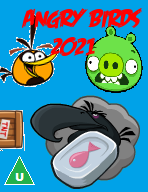 Angry Birds 2021 is a new movie released on August 18, 2012. It was created by
Twentieth Slingshot
.
Plot
The pig go to space, steal the eggsteroids, get Fat Pig, come back to Earth, and steal the eggs.
Screenshots
Transcript
Discs
Disc 1
Disc 2
Deleted Scenes
Pork or Bacon?
Pigs watching Barney
The money!
These are only some. there are more Deleted Scenes.
Credits
ANGRY BIRDS - 2021
A FILM BY ORANGEBIRD763
STARRING:

RED BIRD
YELLOW BIRD
BLACK BIRD
BLUE BIRDS
BIG BROTHER BIRD
ORANGE BIRD

TOKU BIRD
HELMET PIG
SMALL, MEDIUM, AND LARGE PIG
MOUSTACHE PIG
FAT PIG

PRODUCED BY
ORANGEBIRD763 FILMS AND


THIS WORK IS COPYRIGHTED UNDER THE UNITED STATES COPYRIGHTING LAW.
ANY UNAUTHORIZED REPRODUCTIONS OR COPIES WILL RESULT IN FEDERAL LAW CONSEQUENCIES.
ANGRY BIRDS - 2021 IS A REGISTERED TRADEMARK OF ORANGEBIRD763 FILMS.
THE ORANGEBIRD763 FILMS LOGO, THE TWENTIETH SLINGSHOT LOGO ARE REGISTERED TRADEMARKS OF THEIR RESPECTIVE OWNERS.
© 2012 ORANGEBIRD763 FILMS. © 2012 TWENTIETH SLINGSHOT.
ANGRY BIRDS, BAD PIGGIES AND MIGHTY CREATURES ARE REGISTERED TRADEMARKS OF ROVIO ENTERTAINMENT LTD AND ARE PROTECTED BY INTERNATIONAL COPYRIGHT LAWS. ALL RIGHTS RESERVED. WWW.ROVIO.COM
Community content is available under
CC-BY-SA
unless otherwise noted.