Angry Birds Energy Drink (Nicknamed Angry Power) is a energy drink so that you can have more energy to do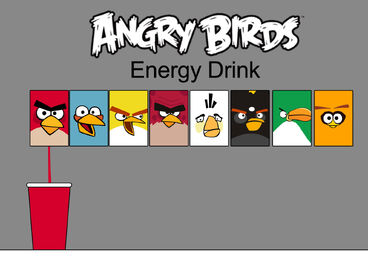 physical activites. It was released and first avaliable in the Rovio store on 23 September 2012.
Flavours
Cherry (Nicknamed Noise Cherry)
Mixed Berry (Nicknamed Spliter Berry)
Lemon (Nicknamed Speedy Lemon)
Raspberry (Nicknamed Big Brother Raspberry)(New Flavour)
Blackberry (Nicknamed Nuked Blackberry)
White Grape (Nicknamed Popped White Grape)
Lime (Nicknamed Boomerang Lime)
Tangarine (Nicknamed Infated Tangarine)
Strawberry (Nicknamed Bubble Strawberry)
Apple (Nicknamed Oinked Apple)
(More to come)
Trivia
They Discontiniued The Original Flavors(Egg Cream, etc.) Cause They Are Not-So-Healthy For An Energy Drink......
TV Commercial
(Angry Birds Piglantis theme plays)
Voice:What Energy Drink be Natural?
Birds:Yes, I am Right!
Voice:Angry Birds Energy Drink! is Coming!
Red Bird:Cherry!(drinks)
Blue Bird:Mixed berry!(drinks)
Yellow Bird:Lemon!(drinks)
Big Brother Bird:Ruffberry!(Big Brother Bird said "Ruff" again)(drinks)
Black Bird:Blackberry!(drinks)
White Bird:White Grape!(drinks)
Boomerang Bird:Lime!(drinks)
Orange Bird:Tangarine!(drinks)
Voice:Angry Birds Energry Drink, Get it now! and more is coming
(Rovio Logo)
(Song End)
Community content is available under
CC-BY-SA
unless otherwise noted.