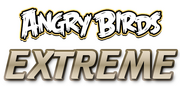 For TechKon's version, see
Here
.
Angry Birds Extreme is a game with power-ups and modes. The game was released on January 1, 2013.
Birds
Red Bird
Blue Bird
Yellow Bird
Black Bird
White Bird
Boomerang Bird
Piggy Mc Cool
Big Brother Bird
Orange Bird
Pink Bird
Squealer Bird
Neutron Star Bird
Jetpack Bird
Dahila
Poppy
Willow
Luca
Mighty Eagle
Mighty Dragon
Shelly
Skunky
Chickenwing
Ender Bird
Nyan Cat
Pikachu
Pigs
Small Pig
Medium Pig
Large Pig
Helmet Pig
Corporal Pig
Mustache Pig
King Pig
Fat Pig
Springy Pig
El Porkador
Machine Boy
Droopy Pig
Melted Pig
Mexican Pig
Marmosets
Mauro
Nigel
​Episodes
Toast and Eggs
Its a Jungle Out There!
Rise of the Phoenix
Those Piggahs Better Not Mess With Us
Factories Pollute!
Doom!
Danger in this area
The calm before the storm...
Rainy Day in the City
Birds' Ultimate Fate ( Encounter of the King Pig's army )
Fight the remnants!
Golden Eggs
Power-ups
King Sling
Super Seeds
Sling Scope
Birdquake
Samba Burst
TNT Drop
Flock of Birds
Space Egg
Pig Puffer
Story
Now the pigs are back with a entire army of their own. But not to be feared! THE BIRDS HAVE ALSO THEIR ARMY TOO! With the help of 27 NEW BIRDS, try the fight back the biggest treat who ever happened to the birds! You think you can beat King Pig? Let's hope! TRY THIS NEW GAME NOW!
Platforms
Apple iOS
Gamecube
DS
Wii
Xbox 360
Nokia
PC
Mac
Roku
Android
Ouya
Community content is available under
CC-BY-SA
unless otherwise noted.