Featured Article
This article is or has been featured in the Angry Birds Fanon Wiki.
For Orangebird763's version of this game, click here.
Angry Birds Extreme is a game where all the games of Angry Birds are combined into one game, except Angry Birds Rio, and there is even Angry Birds World combined into this game to give it an RPG, because everyone loves RPGs. This game was released on September 17, 2012. When a new game is released, it will be 99 cents to buy. Many games in Angry Birds Extreme have special features in them that the original version that isn't in Angry Birds Extreme wouldn't have. For example, Angry Birds World only has the halloween shop on the Angry Birds Extreme version.
Updates/News
Quick Guide
Bold dates mean an already released update.
Bold and Italic dates mean a future update.
7/18/13: Rovio released the 2.5 update which changed totally the game, and became more user friendly for mobile users. The update also added many, many, games, a score sharing option, and included new accounts for Rovio games. Rovio account auto-detection was also added, and Bird Coins, that can unlock stuff from the shop.
7/30/13: Version 2.5.1 is released, some bugs fixed.
8/3/13: Version 2.5.2 is released, some more bugs fixed, Angry Birds Whataburger is added, and a new cyan egg is added in a certain level that can give you tons of Bird Coins.
8/15/13: Version 2.5.3 is released, some more cyan eggs are added to levels.
8/17/13: Version 2.5.4 is released, some bugs fixed and more items added to shop.
8/20/13: Version 2.5.5 is released, some menu glitches fixed, and the game is now more compatible and less laggy with slow computers.
8/21/13: Version 2.5.6 is released, just some more bugs fixed.
8/23/13: Version 2.5.7 is released, a whole new menu style is added, and Google+ added on the score sharing option. More shop items are released, and Bird Coins are now available to buy instead of only earning them.
9/10/13: Angry Birds Extreme announced to be compatible with Nokia, Motorola, Blackberry, and LG very soon.
9/27/13: The Nokia version of Angry Birds Extreme is released, and the Motorola version is announced to release in mid-October.
10/5/13: The LG version is released for Angry Birds Extreme, and the Version 2.5.8 update is released. Some bugs were fixed, and Angry Birds Star Wars II is added.
10/18/13: The Motorola version is released, Version 2.6 is released, making it able to connect to your entire device. Game performance and graphics were improved on, bird properties were added to the game, power-ups are buyable with bird coins now, instead of just real money, and buyable birds with bird coins to use in levels are also available. For example, if you only have a red bird left, and the pigs' structure is still almost normal-looking, and there are still a lot of pigs left, you could buy 1 or 2 bomb birds with bird coins. Just buy them, then equip them in a certain level. A halloween special sale is also available until November 2, with prices up to 90% off.
10/20/13: Version 2.6.1 is released, with some bug fixes, adding the plastic material, that is used in Angry Birds Seasons 5, and adding the game feature called, "Pumpkin".
6/16/16: Version 2.6.2 is released, that is used in Angry Birds Camp Lakebottom, and adding the game feature.
Characters
Birds
Yellow Bird
Blue Birds
Black Bird
White Bird
Boomerang Bird
Terence
Orange Bird
Pink Bird
Super Red
Lightning Blues
Fire Bomb
Lazer Chuck
Ice Bird
Amazing Terence
Atom Bubbles
Space Egg (Bonus Levels)
Green Bomb Bird
Blu
Jewel
Mighty Characters
Mighty Eagle
Mighty Dragon
Space Eagle
Pigs
Small Pig
Medium Pig
Large Pig
Helmet Pig
Moustache Pig
King Pig
Fat Pig
Marmosets
Mauro
Nigel
Freckled Pig
Angry Bird Games
Angry Birds Wonderful Pistachios
Angry Birds Tyrkisk Peber (Angry Birds Volcano)
Angry Birds Heikki
Angry Birds Vuela Tazos
Angry Birds Fuji TV
Angry Birds Coca-Cola
Angry Birds Ultrabook Adventure
Angry Birds Seasons
Angry Birds (Original)
Angry Birds Space
Angry Birds McDonalds (Real Version) Promotion ended in the 2.5 update.
Angry Birds Star Wars
Angry Birds Rio
Angry Birds Star Wars II (September 19th)
Angry Birds Go!
Angry Birds Epic
Angry Birds Stella
Angry Birds Transformers
Angry Birds Camp Lakebottom (June 16th)
Bad Piggies Games
Bad Piggies
Bad Piggies Seasons
Bad Piggies 26th Century
Bad Piggies: Extreme Edition (Added in 2.5 update) ( See Below )
New Features In This Game
Golden iPhones Promotion ended in 2.5 update.
Promoting Apple ( and only available on their devices ), a golden iPhone unlock a Secret iPhone-themed level. Before the 2.5 update, people did have a chance to win an real iPhone, but now, the contest has ended.


Level Rings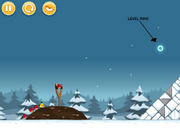 Level rings are mysterious little circles that appear in some levels from time to time. It is very rare to get, because they only stay in the air for 3 seconds. These rings are always light-blue colored. Whenever you collect a level ring, you only unlock a secret level. There are actually some level rings that unlock 2 secret levels instead of 1, so if you are lucky enough, you will collect a level ring with 2 secret levels.
Bad Piggies: Extreme Edition
In addition to the 2.5 update, a exclusive edition of Bad Piggies has been created. This edition did render the levels extremely hard and complex.
More Features Coming Soon!

Community content is available under
CC-BY-SA
unless otherwise noted.