This is a Public page.
Which means everyone can edit! Just don't vandalise it.
---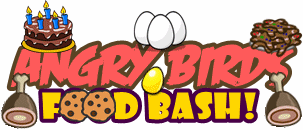 Angry Birds Food Bash is a food-inspired game released on March 2, 2015.

It is free but contains in-app purchases.
Angry Birds Food Bash Description
What trouble has the Birds gone through now? Getting stranded in the delicious island of FoodBash. You might think of that as a good thing, but the Bad Piggies are at it again and now they're running away with the stolen eggs! The birds need your help! 15+ mouthwatering episodes with tasty surprises! Take a look at the awesome new birds with sweet abilities and the new piggies with evil fun!New feature: feed the birds and pigs daily to win prizes! Unlock yummy bonus episodes and style your bird with food-inspired clothing! What are you waiting for? Eat Up!
Episodes
Feeding
In Angry Birds Food Bash!!,there are new features called "Feeding".You will be able to catch food in levels or purchase them in the shop for the birds and pigs to eat.Daily,you can feed a bird and a pig.Birds can give you chocolate coins and pigs can burp out exclusive powerups for feeding them.This similar to the Feed King Pig feature in Bad Piggies Original. In Cheeseburger World, you can find cheeseburgers to feed to birds and pigs.
Shop
There is a shop in Angry Birds Food Bash!!.In the shop,you can purchase normal powerups and food with  chocolate coins.You can buy food-related clothes that you can dress on each of your birds and you able to show the dressed birds in-game.Chocolate coins are purchasable with real money.
Bonus Episodes(Unlockable)
These episodes are unlockable by finishing an episode.(Except Scary n' Sweet)
Help the Baby Parrot! (Green Eggs and ham)
Disgusting Dessert (Mmm!...Desert!)
Falling Boxes o' Food! (Airplane Food)
Egg Salad Mud (Eggtown)
Pig Pie Throwers (Food Fight!!!)
Berry Bears (Hunting)
Some More S'mores! (Marshmallow World)
The Hidden Dorrito (Potato Chipz)
TACOZ (The Extra Spice)
The Caves of Sweet Mountains (Sweet Mountain!)
Fishy Mistake (Sushi Town)
Fancy Chocolate (The Truffle Trouble)
Butcher Bird Attack! (Meet Meat!)
Chocolate River (Is that, CHOCOLATE???)
The Killer Soup (Cordon Piggy)
Peppermint Top hat (Red eggs & ham)
Coca Cola Coral Reef (Fizzy Ocean, sponsor)
Stuff n' Buns (Cheeseburger World)
Reverse Rain (Deep Fried Volcano)
Honey Hoggers (Honeycomb Waterfall)
Vicious Viscosity (Caramel Bayou)
Tiny Snowflakes (Rice Desert)
Milk Nuisance (Dairy Island)
Episode Gallery
Story
The Birds were traveling on vacation to various islands.The one that caugh their attention was an island practically made of food.Before they knew it,there were pig residents in the island.The birds we're easily distracted by this tasty island,so the pigs stole the eggs in a flash.While the pigs ran away,the birds realized that their eggs were missing.Luckily,prints of the pigs were printed into the ground,so the birds followed the tracks and into various areas.
Trivia
The whole game is about food.
The Fat Pig will return.
A lot of new birds were introduced in this game.
Three new pigs were introduced in this game.
Scary n' Sweet is one of the only Halloween episodes not in a Seasons game.
In Sushi Town, Boomerang Bird will have a new design
Birds
Red

Chuck

Jay, Jake & Jim

Bomb

Matilda

Hal

Terence

Bubbles

Stella

Silver

Icey Bird

(Red Eggs & Ham only)
More Coming Soon
Pigs
Gallery for other things
Community content is available under
CC-BY-SA
unless otherwise noted.