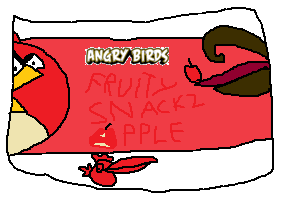 This fruit belongs to Angry Birds Fruity Snacks!
About
Description on Back
You Birds will LOVE these fruity snacks! With an Original Apple flavor, this is great for you original Birds!
Shops
Bird-Da (Asda)
Birdco (Tesco)
Birdsburry's (Sainsburry's)
The Fruit Birds (None)
The Healthy Space (None) (Found in Space)
McBird (Mcdonalds)
Wal-Bird (Wal-Mart)
Pig Target (Target)
Food Birdy (Food Lion)
Pigmans (Wegmans)
Ingredients
Apples and Juices
Gallery
Community content is available under
CC-BY-SA
unless otherwise noted.