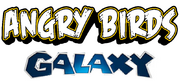 Angry Birds Galaxy is a game with new birds but not with real birds. This game almost have a mix of Angry Birds Space and Super Mario Galaxy. The game was announced on May 1, 2012 and the game was released on May 28, 2012. On January 1, 2013, Angry Birds Extreme was released.
Story
In the Angry Birds Island, there are the only birds are Mud, Midnight, Suite, Gemini, Rolling, Plant, Amulet, Mint, Fish Box, Dark Orange, Pink Ice, Rolf, Egg, Blue and Pink and Pig.
When the real birds' eggs are broken and turn back into Hello! Project members because of the King Pig laughs. Then the real birds fell into Japan.
We must to find then, turn the eggs back to normal and get the real birds back.
When they met the Pig Bang, they will become Space birds.
In the updated version, the birds finally see that King Pig has a father , and he is the true enemy of all the birds. (see Pig's Father King Pig's Father)
Characters
There is only two groups of birds. There will be two groups of pigs too.
Birds
The main birds that will kill the pigs, if you need to kill pigs, you can use allies.
Unlockable
Poison Bird (unlock by killing the King Pig) - The 3rd new Red Bird - Poisons pigs when tapped.
Galaxy Bird (unlock by getting the full version) - The 3rd new Blue Bird - Heals birds with planet water bucket when tapped.
Weapon Birds (Sword, Gun, Hammer, Whip and Bow and Arrow) (unlock by buying the Angry Birds Galaxy plush toy then use the correct code) - The new birds - 5 powers each.
Buyable
Song Bird - The 2nd new Black Bird - Sings high note when tapped. Can be brought from the Bird Shop and it cost 100 points.
Mighty Bird - The new Mighty Eagle - Kills all pigs in a level. Can be brought from the Angry Birds Store and it cost $0.99.*
(please remember to not add any real birds or other fanon birds, you can only add my birds)
Pigs
Small Pig
Medium Pig
Large Pig
Helmet Pig
Mustache Pig
Fat Pig
Postman Pig
Miner Pig
Construction Pig
Chef Pig
Bosses
Allies
Aillies are the other birds that will help is there is one more bird to kill the pigs. All Pinga Bird's birds are in this game.
Episodes
Main Episodes
Earth
Moon
Mercury
Venus
Mars
Jupiter
Saturn
Uranus
Neptune
Pluto
Charon
Sun
Special
Galaxy Birds in Space! (based on Angry Birds Space)
Secret
Golden Galaxy Eggs (6 in total)
Song
The main song is from Angry Birds Space.
Play On
(What you play it on - When it comes out)
PC - May 28
Mac - May 28
iOS - May 28
Android - May 28
TV (DVD) - June 1
TV (TV Games) - June 1
Galaxy Note - June 1
Nintendo 3DS - June 5
Nintendo DSi - June 5
BlackBerry PlayBook - June 6
Updates
History
May 28 2012 - Launched and came out in stores
June 12 2012 - Adds new stuff such as levels
The poll ended on 6/6/12.
New Level
Now vote it before the 3rd update!
New Bird
Now my birds are added to this game as allies, try something else.
TV Commericals: Fails and Working
You make fails and Pinga Bird make workings.
Fail
Camera Person: Action!
Mud Bird: Hey! Let's go to the Galaxy!
Midnight Bird: Hey! We have to go on Earth first!
Red Bird: Help!
Mud Bird: Hey! Do I need first ad?
Red Bird: No thanks, only humans can get it..
Galaxy Bird: Hi!
Voice 1: Hey! Galaxy Bird! What are you doing here! You are unlockable bird! Go away!
Voice 2: Yeah! That's right!
Person: We got a first fail for having unlockable birds!
Camera Person: CUT!
Fail 2
Camera Person: Let's take another take.
Person: This time do not have anything unlockable.
Camera Person: Action!
Mud Bird: Hey! Are we speaking Vietnamese?
Person: No, you can't.
Midnight Bird: What about Japanese?
Person: No.
Gemini Bird: Here is my favorite food... Is the icecream.
Person: We got the second fail for talking about food and try to speak Vietnamese and Japanese!
Camera Person: CUT!
Working
Voice 1: Action!
Mud Bird: Hey! I got a iPhone! Quack!
Mint Bird: I got a PC!
Pink Ice Bird: I got a iPad!
Gemini Bird: I got a Android!
Plant Bird: I got a Mac!
Mud Bird: It's worth $1.90 on iPhone store.
(The logo comes out, the Rovio logo comes out and the words says "Coming on iOS, PC, Mac, Android and more!")
Fail 3
Camera Person: Action!
Mud Bird: Get Angry Birds Galaxy on...
Mud Bird: Who smells minty?
Person:"FACEPALM"
Egg Bird: I'll take Mud Bird's Spot.
Egg Bird Kicks Mud Bird
Egg Bird: Get Angry Birds Galaxy on Iphone for....
Egg Bird: I smell mint!
Person: "FACEPALM"
After all birds act,
Person: Another fail because of Mint Bird.
Mint Bird: What?
Camera Person: CUT!
Trivia
The real birds was replaced by the fanon birds.
Dark Bird also appears in this game but he appears in Angry Birds Nightmare.
Gallery
Artwork
Sprites
Screenshot
Community content is available under
CC-BY-SA
unless otherwise noted.