Construction
This article is under construction. You can help by expanding it but please do not delete this article or mark it as a stub.
Angry Birds Go! The World Tour is a sequel to the popular game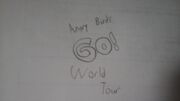 Angry Birds Go! The game released on May 17, 2020 and was made by ShyGuy1000 and Rovio Entertainment.
Gameplay
In this game you travel throughout parts of the world in tours. A new tour takes place every 2 weeks with special characters to unlock for that tour. This is a mobile game so like the original game you can tilt your device to drive. You can use bird coins to fire off a Super block from the slingshot to try and get new karts and characters.
Characters
Here is a current list of characters in the game.
Red
Chuck
Bomb
Silver (new)
The Blues
Terrence
King Pig
Hal
Stella
Matilda
Bubbles
Chef Pig (new)
Foreman Pig
Corporal Pig
Minion Pig (new)
Leonard (new)
Mighty Eagle (new)
Movie Red (new)
Movie Leonard (new)
This is all the current characters at the moment with more to come.
Spotlight characters
Red (Singer)
Judge Bird
Community content is available under
CC-BY-SA
unless otherwise noted.