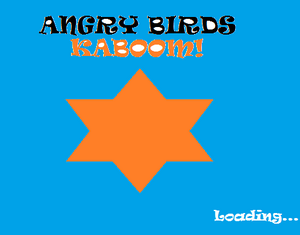 Angry Birds KABOOM! is a game. This is a big difference.
Story
Red Bird, Terence, Orange Bird and The Blue Birds came to Yellow Bird's house. When entered, the house is dark. Red Bird thinks that Yellow Bird was on vacation. Green Bird, Ice Bird and Black Bird joins and so as the White Bird. They saw a portal then. Red Bird thinks that Yellow Bird is in the portal. He went in the portal and it got mixed up. To find out what happens next, go to Where is Yellow Bird.
Characters
Birds
Big Bro. Bird - 3-8
Orange Bird - 1-17
Pigs
Unlockable Birds
Slam Bird: Buy a Slam Bird Angry Birds KABOOM plush toy.
Announcement
On July 2nd, 2012, Rovio has a full announcement that Angry Birds KABOOM will be released in Augest with 2 new birds. The game's hardest levels are the pigs with the T.N.T. In Augest 2, 2012, Angry Birds KABOOM is released.
Song
TBA
Levels
Where Is Yellow Bird?
Red Bird finds out that yellow bird is missing. He joins Blue Bird and Black Bird.
TBA
TV Commericals: Fails and Working
Fail
Voice 1: Take 1...Action!
Voice 2: The birds are in a strange place!
(Slam Bird smashes Voice 1.)
Fail 2
Voice 1: Let's take another take.
Voice 2: This time no smashing Slam Bird.
Voice 1: Take 2.....Action!
Red Bird: Hello what's up?
Yellow Bird: I'm Trapped.
Slam Bird: Ni hao ka lan!
Voice 1: Stop saying chinese!
(Google Translate was used.)
Working
Voice 1: Take 3......Lights, Camera, Action!
Red Bird: Wow! An iPhone!
Yellow Bird: It costs $0.99. Mine is the iPad, it cost 2.99....
Orange Bird:And I got Nokia900.
(Birds get Angry Birds Kaboom, then a portal appears.)
Orange Bird: Come On, lets go inside!
(Birds went into the portal.)
Community content is available under
CC-BY-SA
unless otherwise noted.