Angry Birds Michu is a Angry birds fanon game that is the original gameplay but with Michu by Tanicfan22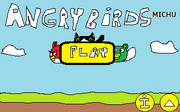 Plot
Michu entered to the Angry Birds World portal, he meet the birds and they became friends, but after the birds's eggs got stoled, Michu got captured by the pigs along with the eggs, he cannot escape. The birds got angry and a large pig taunted them and also Yellow Bird, they got more angry and must rescue the eggs and Michu.
Birds (also Michu)
Red Bird
Blue Bird
Yellow Bird
White Bird
Black Bird
Boomerang Bird
Big Brother Bird
Orange Bird
Pink Bird
Michu
Pigs
Small Pig
Medium Pig
Large Pig
Helmet Pig
Moustache Pig
King Pig
Fat Pig
Episodes
Poached Eggs
Mighty Hoax
Danger Above
The Big Setup
Ham' em High
Mine and Dine
Season's Greedings
Trick or Treat
Hogs & Kisses
Go Green, Get Lucky
Easter Eggs
Cherry Blossom
Winter Wonderham
Summer Pignic
Bad Piggies
Birdday Party
Surf and Turf
Pigini Beach
Red's Mighty Feathers
Golden Eggs
New Gameplay
Michu
Tap the screen and he makes an mini-tornado that brokes Wood, Glass and pops Pigs. Warning do not use if not tapped the screen if touched a stone, or he will corpses.
Michu's Challenge
Beat the bonus level with only Michu and you get redirected to "Michu's Challenge", which the level ONLY have a Michu and the King Pig with a castle of wood and glass. If you fail the level, you can't reset which you may to beat  the bonus level again and again...
New Level
If you beat Poached Eggs without failing, you get a new level.
Classic Sprites/Mode
The corpses, White Bird sprite and Boomerang Bird sprite are on "Classic Mode". Classic Mode can only be unlocked by beating the bonus level.
Bonus Level
A bonus level is you have any 1 bird or Michu on a TNT maze level when you complete Who's that Cat? without falling beating the King Pig. If the bird or Michu failed, you doesn't have surprises, you get back to the menu. If you win, you recivie a free golden egg.
Angry Birds Demo Game
A demo game of Angry birds will feature if you beat the game with any stars. The demo features 10 levels of Poached Eggs only.
Christmas/Holiday Mode
Any day of Decembrer (specially Decembrer 25th) will make the menu looks like Season's Greedings. This is still present as of 2013 by beating Season's Greedings or Winter Wonderham.
New Year Mode
If the day reaches Janaury 1st, it will display new levels and you can play as all birds. This is still present as of 2013.
Valentine's Day Mode
Most of the levels of Poached Eggs redirects to Hogs and Kisses's levels if you beat Hogs and Kisses.
Space Mode
There's a space mode which you have it free. It also have orange bird.
New Golden Eggs
When starting the game, click on Red Bird's chest, and then it redirect to Level 1-1, then you found a message saying: "Congrulations! You found the new golden egg, so here's a surprise!". It puts the Facebook power-ups on the gameplay and you get the golden egg.
Click on the demo game when you beated the game, then click the last level, shoots backwards the red bird, there's a golden egg behind, then you got the shoot right, the demo has 21 levels more and Mighty Hoax on the demo.
Click on the small pig on the menu, there's a message saying: "Thanks for touching me!". A golden egg falls from the sky and stops at the middle of the menu, and if you click it, you have Free Mighty Eagle!
On Poached Eggs level 1-1, press up, down, left, right (2 times) and enter. You will be send to level 1-22 (secret level), you got all the Birds (Pink Bird also) and Michu. If you explode the "Arrow Box" Then the birds will change to Pigs and pigs to Birds (relation to King Pig but this time Birds) Michu is still a cat.
Do the Konami Code and you will get a Contra minigame. (Also all the golden eggs and a secret menu.)
On the Level 1-22 (below), use Boomerang Bird and launch it backwards then tap the screen, and you get a golden egg (A pig balloon).
Click the Pig on the title screen, it pops with an oink sound and you get a golden egg.
Click the Cardboard King Pig and it changes to a golden egg, click it again and you get it (The Cardboard Golden Egg changes back).
Play Angry Birds Michu for 24 or 48 hours to get the Golden King Pig.
Tap the Birds or the pigs 10 times in the menu screen.
Beat Michu's Challenge and you get a golden egg
Beat the bonus level.
Complete all the eggsteriods and you get a golden egg, which is a space level with all birds and Michu with a space helmet and it have all original pigs and chrome pigs.
Typing any cheat code of another game will result the screen telling you "that's a cheat from another game but anyways I will give you the golden egg"
Original Golden Eggs
Pass all levels with the Classic Mode.
Community content is available under
CC-BY-SA
unless otherwise noted.