Featured Article
This article is or has been featured in the Angry Birds Fanon Wiki.
Angry Birds Miscellanous (or Angry Birds Diferent Things) is a game parody of Angry Birds.The gameplay is throuch the same,but witch more powers episodes and also more of lots of surprises!
It fetaures Magical Angry Birds Cakes (Angry Birds Cakes from Angry Birds Fans) that give to you more special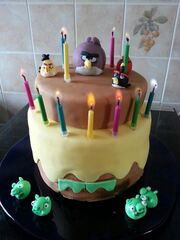 abilites and changes to win.
You can also add bird fans that gives you enem more changes to win! (Some of the fans are female birds,huray!)
Birds
Red
The Blues (Jay, Jake, and Jim)
Chuck
Bomb
Matilda
Hal
Terence
Bubbles
Stella
Episodes
Magical World
Mighty Cakes
Cake-Volcano (bonus)
Gallery
Cakes Gallery
Community content is available under
CC-BY-SA
unless otherwise noted.