Angry Birds Nature is the game that you have to protect nature from evil pigs that try to destroy it!
Nature Birds
Fire Bird - Blast fire
Ice Bird - split into 3 and blast the ice
Land Bird - Does low damage-earthquake
Light Bird - Blast the light
Doom Bird - Explode as doom power
Wind Bird - Make the wind
Purchasable Nature Bird
Each Nature Birds has their own eagle.The eagles can be purchased for 0.10$ for each one
Fire Eagle - Make the giganatic fire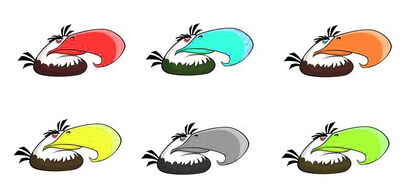 Ice Eagle - Freeze all pigs
Land Eagle - same as Mighty Eagle
Light Eagle - Blast the Solar Light
Dark Eagle - Explode all level
Wind Eagle - Make the Tornado that absorb everything
Episodes
Help the Nature
Destroyer Pigs
Blast all power!
Kill the evil
Heal the Nature
Story
The Nature Birds protecting the nature and then evil pigs try to destroy it and they have to protect it!
Community content is available under
CC-BY-SA
unless otherwise noted.