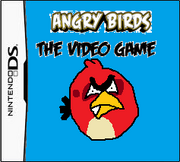 This is a game of Angry Birds on Nintendo DS. It was released in stores on June 30, 2012 but shut down february 3, 2020.
Description
Help the Angry Birds in a quest to return the eggs from the Bad Piggies! You can play with nearby players using Multiplayer! The great thing is, you can earn updates!
Info
This is the info in the Instruction Booklet.
Starting the Game
Turn off your Nintendo DS and remove the Game Card already inside (if there is). Now, put the Angry Birds DS Game Card into the DS. After starting, Turn on your DS and tap the Angry Birds: The Video Game icon.
Progress
Creating
When creating progress, after starting, you will see a button saying Create Progress. Tap it, and you can create progress.
Deleting
Want to delete your progress? Go back to the Progress Selection menu, and tap your progress you want to delete. You will get 3 buttons saying "Open, Delete, Change Name" Tap "Delete" and you will get a warning saying "If you delete all your progress, you will never be able to get it back!". Tap "Yes" and then wait.
Game Modes
Story Mode
Complete Mini-Games with stuff to do with the Episode you are playing.
Quick Play
Choose any Mini-Game that you have won without having to play all Mini-Games in the Episode.
Multiplayer
Using DS Download Play, you can play with your friends!
Change Save Stuff
Why do you want to know THIS!?
Multiplayer Info
Single-Card
You Need:
2 Nintendo DS Systems
1 Angry Birds: The Video Game Card
How to do it (Host):
Insert the Game Card into the DS System
Turn the power on
Tap the "Angry Birds: The Video Game" icon
How to do it (Join):
Turn the power on
Tap DS Download Play
Tap the "Angry Birds: The Video Game icon
Confirm your choice by tapping "Yes" to download info from the Host
Multi-Card
You will need 2 Game Cards this time.
How to do it:
Insert the Angry Birds Game Card into BOTH systems
Turn the power on
Tap the Angry Birds: The Video Game icon
Tap Multiplayer
You may host a game, or join a game
Host - Wait for players to download the game
Join - Join a game
Updates
You need an Internet Connection to update. If your Internet Connection is not working, your Update will not come. If there are no updates, it will tell you it failed to update. The reason will be: Update unavailable. If something goes wrong, it tells you it failed.
Reasons
No Internet Connection (You need to fix your Internet Connection)
Update Unavailable (There is no Update, so leave it alone)
Already Updated (You already have the Update)
Update Not Needed (You need to complete more of the Game to get this Update)
Update Coming Soon: 9/August/2022 (There is a coming soon Update, but it will come another time. It also shows the time it will come)
Gallery