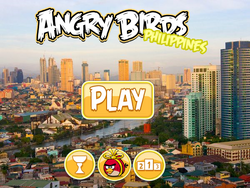 Angry Birds Philippines is a game. It will be re-released on November 2015. It is only downloadable in the Philippines, Japan, Taiwan, Indonesia, China, and the United States.
This Game will be like Angry Birds 2, featuring multiple-room levels.
There will also have a lives system, but here, You get 1 Life every 20 minutes instead of 30.
Episodes
1. Filipino Metropolitan I (NCR) - 20 levels and 5 FB levels
Mainly Based on Quezon City and Manila
From Levels 1 to 20
2. Taal Town (Batangas) - 25 levels, 5 FB levels
A Mountainous and Windy Episode taking in Batangas
From Levels 21 to 45
3. Sherra Madre Ridges - 25 levels, 6 FB levels
Another Mountainous, but a Jungle-like Landscape with Common Floods, Wild Animals that can kill birds and Poisonous Buildings.
From levels 46 to 70
4. Islander Pinoy - 25 levels, 6 FB levels
A Beach Themed Episode taking place in Cebu and Boracay, with extra 5 levels in a Plane.
From levels 71 to 95
5. Ancient Telekinesis - 30 levels, 6 FB levels
An Episode taking place in Ancient Visayan Temples and Jungles with Telekinetic Pigs, who are Cultural Ancestors.
From levels 96 to 125
6. Timebomb Grasslands - 30 levels, 6 FB levels
An Episode near Mayon Volcano, and has Volcanic Themed Levels, like Tropigal Paradise from AB Seasons.
From levels 126 to 155
7. Sailing to the Deep - 30 levels
An Underground themed Episode in Palawan's Underground Rivers.
From levels 156 to 185
8. Filipino Metropolitan II - 25 levels
A Shorter, but Harder episode also taking place in NCR, but this episode is set inside Buildings such as Malls.
From levels 186 to 210
9. The Pigland Swarm - 30 levels
An Episode taking place on the Hundred Islands, with Water Physics, Waves and shooting birds to other islands.
From levels 211 to 240
10. Super Typhoon War - 30 levels
An Episode taking place in the skies, where the Birds explore a Super Typhoon and to defeat an Airship.
From levels 241 to 270
11.  Mountain Heaven - 30 levels
An Episode in Mindanao, in Mount Apo, which is the tallest mountain in the Philippines. It features Heavy Jungles, Grasslands and Rocky Areas.
From levels 271 to 300
12. Cold Wonders - 35 levels
Takes in Benguet, where you can visit Baguio and the Banaue Rice Terraces.
This also features Snowy Levels, only on the peak of Mount Pulag.
Is a Christmas Episode.
From levels 301 to 335
13. Mini-Makati - 30 levels
Takes place on Davao City. It features City and Tropical Levels. Some are also in Forests, such as Mayo Bay.
From Levels 336 to 365, which is the usual length for Non-leap Years.
14. The Under-Nuclear Trench - 25 Levels
An Underwater episode taking place in the Place of the Philippine Trench where People believe that there are rich amounts of Deuterium in it.
Introduces Radioactive Water, which contains Deuterium and can explode, along with Radioactive Physics.
From levels 366 to 390.
Special Episodes:
Buwan ng Wika (Month of Language) - An Event Episode only opened in August and September celebrating the Date where the Filipino Language was founded. Features an Endurance Mode including Tricky Levels and Boss Fiestas, and you have to go further you can, and if you lose all your birds, the game ends. Just like the Solar System Episode, this Special Episode is also educational, but about the Filipino Language, where you can collect Info from Filipino Scrolls.
Golden Object Episode: Golden Jeepneys (non-sequential)
Birds
King Red Bird - Similar to Red, but a bit more Powerful than normal.
Propeller Bird - Classic of Chuck, can go up by a Propeller, and can destroy structures by the spinning Blades.
Doomspike Bird - Classic of Bomb, strongly destroys things by ease.
Demon Bird - Classic of Hal, burns structures with Fire, weak with Glass and Stone, and is based on a Filipino Mythical Creature called "Tiyanak", so it can crawl around buildings using Sharp Claws.
Freezer Bird - Classic of Bubbles, freezes and weakens structures like Ice Bird.
OP Bird - Classic of the Blues, can split 2 times, so you can have up to 9 birds, but each bird is weak.
Cobalt Bird - Classic of Terence, can damage structures with ease and shatter into Sharp Cobalt Pieces.
ASAP Bird - Classic of Matilda, drops heavy Speakers, which can topple buildings by it's Sound.
Pares Bird - Classic of Stella, Summons Heart-shaped bubbles that are shot from all directions and has a chance to trap objects and destroy them, including itself.
Malakas at Maganda (Power and Beauty) - Classic of Blu and Jewel. Functions the same, but can split. Malakas/Power is durable, so it can retain it's speed for a longer time than normal, but has Moderate Strength, while Maganda/Beauty is weaker, but can spread it's Attack in a Circular Range, so more Buildings are affected.
Philippine Eagle - Classic of the Mighty Eagle, shouts very loudly and damages structures screen-wide.
Music
Theme song (Main Menu & Level Select)
Boss Music
Community content is available under
CC-BY-SA
unless otherwise noted.