Cancelled Project
This project has been cancelled, and there will be no further progress on it.
Angry Birds Ultimate: Special is the exclusive version of Angry Birds Ultimate in Japan having new characters, new pigs and more crazy features. All stuff from the original game is imported here.
Plot
The Flock were enjoying happily on Piggy Island, All except Red, he was busy protecting the eggs from the exceeding danger of the pigs. But suddenly, a Big Portal came: and took the eggs with a giant machine. It was Riba laughing! It appears he took every minion pig and the birds' biggest enemies with him! The whole flock was angrier than ever before! Now they are calling the help of every single bird! Can they get the eggs back before King Smoothcheeks gets his tingling tastebuds on them?
Gameplay
The gameplay is the same as Angry Birds Ultimate, but there are few differences. The minigames are a bit changed up. For example, if you bump into a pig on a map, there is a little minigame you have to play called 豚ストーム (Buta sutōmu) translated as "Pig Storm", it is similar to Egg Defender where you have to defend the eggs, but there are more pigs than ever.
There is also Night Mode, like Construction Mode, but this Night Mode can be toggled on and off after. You can even make it so that it matches your time of day.
Classes
Classes are certain attributes that birds have in common
Basic
Anger
Teamwork
Speed
Strength
Peace
Aerodynamic
Sugar
Intelligence
Color
Combat
Cyber
Stealth
Advanced
Fire - Immune to burning
Water - Immune to drowning
Ice - Immune to freezing
Electric - Immune to lightning
Dark - Immune to magic
Cyber - Increases strength when struck by lightning
Other
Unidentified
The Flock
Every Bird that appears in the game (although, Piggy, Mario, and Luigi are not birds). To read/learn more about them, click their name and it'll take you to their page (unless there isn't one linked or exist.)
 
Bird
Name
Ability
Scrapbook Description
Class
Red
Red is the protective leader of the flock, his super-fierce battle cry blows the pigs' structures to pieces.
Red Anger!

Red is the fearless, protective and formidable leader of the birds. You'll never find a bird as loyal as him. Red will always defend the eggs no matter what it takes. Despite that, Red is a complete control freak. Red never listens to others, meaning that he thinks that only he knows the best. He was bullied a lot as a kid, named "Eyebrows". He is usually negative, but he will be the first when it comes to protecting the eggs.

Anger
The Blues
Level 1: The Blues use their special formation: to come as one but split into three! These bluebirds are packed with energy making them slightly faster than Red. Unlike other games, the Blues can break wood but are better with glass.

Level 5: As they split, tap again to make them speed up. At this stage, they can break wood when sped up. This makes them a lot more useful for poppin' them porkers!

Superb Splitters!

Jim, Jake, and Jay are playful triplets that are playful pranksters. They are full of bursting energy, they are the brainiest of the bunch, even though they may fight, those bluebirds always stick up for each other. They are hatched from the same egg, rescued by Red in the past, they were close to NEVER HATCHING. So they are quite lucky. The blues do not like to work, but when they do, they are inventive problem solvers!

Teamwork
Chuck
Level 1: You'll never find a bird faster than Chuck, maybe. When his ability is triggered he speeds up as fast as a rocket! Good for speeding past piggy projectiles.

Level 5: Chuck will now zap to the tapped location, and is speedier on default. This makes him able to turn wood into splinters in nanoseconds, and pigs into porkchops.

Speedy Does It!

Chuck is currently running at 100 mph, which includes his mouth! He's the fastest wired little fellow in the flock and he is quite overconfident about winning. His speedy nature can usually and him up in trouble. Chuck may be fearless, but he has the fear of dark and lightning. He thinks he is best among most of the birds. Chuck is a big show-off and he is jealous of others' abilities, especially Bomb! (Bomb was acted like he's a god).

Speed
Bomb
Triggering his anger makes him...KABLAAM!!!
Blackbird of Bombardment!

Bomb is the most chill bird on the island, well, usually. Ruffle his feathers and you'll get an explosive surprise! Bomb's explosions are used to take down pig fortresses, this is an advantage, but he struggles to control his power though. Whether it's something that annoys him, he can blow up unexpectedly. He's a big prankster and joins The Blues in their practical jokes. He would make little explosions behind the birds' backs to make them jump out of their plumage!

Strength
Matilda
Level 1:Drops an exploding egg bomb on the pigs, the egg bomb can give her a boost up so she is useful for hitting structures up high.

Level 5: Matilda still uses her eggbomb ability, but she drops three eggbombs, and the last one is 150% powerful

Hippie of the flock!

Matilda is a peace-loving bird that tries to find a solution for every problem. She wishes that one-day hamkind and birdkind will get together. This bird loves to garden and does Nest-Shui. She tries to keep Bomb peaceful before he blows up unexpectedly. She also cares about the blues since they moved to Piggy Island. That's not to say she's useless in pig-popping duty. Threaten the eggs, or mess up her flower beds, and you'll feel the full force of an exploding egg!

Peace
Terence
Terence doesn't need an ability, look at him, he's BIG, BAD, BOLD!
Go BIG, Go Home!

Terence is a mystery of the flock and the nightmare of the pigs. His strength gives him lots of power so he has physically no weaknesses. Socially is another matter, he is a complete and utter loner. Terence rarely talks or even smiles. He usually just sits there. His stern look can scare swine away, the problem is, even the birds are scared of him, only Red can get through the hulking outsider, the rest keep their distance. Terence weighs more when he gets angrier. Don't ask questions (He won't answer). Anger and Strength

Silver
Loops to the ground and crashes into the pigs' foundations
Silver Lining!

Silver is a goofy bird with a funny sense of humor. She was found by a pig and was going to be made into an omelet, but soon hatched. The pigs raised her and called her "Silver" but later joined the Flock because she's happier with them. This may be the reason why has some pig-like ways and her teeth are crooked like a pig. Silvers also likes to join the Blues in their funny pranks. But because she was raised by the pigs, doesn't mean that Silver is bad in using the slingshot, she is, in fact, a skilled and talented flyer!

Aerodynamics
Hal
Hal's ability is to swing back like a boomerang and have more strength when boomeranged.
Beaked Boomerang!

Hal is a bird with lots of personalities, sometimes, he is a mature, sociable and intelligent bird with a deep love for nature. On other times, he can be clumsy and goofy and he can trip over his long beak! Hal has a banjo that he uses for music and he loves to go on adventures. Hal can be rarely seen by the flock because he can go for camps, but on times like this, Hal will take the sling and make the pigs laugh on the other side of their snouts.

Aerodynamics
Bubbles
Bubbles' ability is to inflate like a large balloon that pushes pigs and structures out of the way, and then pops, dealing damage to structures around him and blows pigs off his path.
Candy Monster!

Bubbles is quiet but also friendly. He loves nothing more than candy, which is probably why Ham o' ween is his favorite season, he would go to Pig City every Halloween trick-or-treating. Bubbles has a fierce look if you snatch his candy which you should probably avoid! Bubbles may be small (most of the time) but he is a big joker like the Blues! One night he dressed up as a spooky creature, making everyone run away, and leave their sweets unintentionally for Bubbles to tuck in!

Sugar
Stella
Stella can blow bubbles and encase pigs and items in her bubbles, then they pop and drop down for some extreme damage.
Pink Flash!

Stella is a feisty, bright and optimistic bird. Don't get fooled by her looks as this blue-eyed beauty has a mind as smart as her beak. Stella is a loyal bird to her friends, she is quick to defend if any of her friends are treated badly. She has a blazing temper that the pigs would be afraid of! She loves to try new things and she's perfected the art of bubble-blowing to protect herself. Stella is an amazing parkour athlete - cheetah fast and awesomely acrobatic!

Stealth
Ruby
Boosts up on speed and strength for a while when her ability is triggered. She also blows everything in front of her.
Super Scarlet!

Ruby is an energetic and smart bird. Ruby is a lovebird for Red and she always follows his rules, although she likes to have some fun. Ruby can probably tell if someone is lying or not as she doesn't. When the pigs are on the run, she will quickly change from her easygoing personality to a really fierce and strict personality that shall teach the pigs a lesson. Ruby can always hear the slightest piggy peril and alarm the birds, Ruby is a good bird to have in the flock!

Anger
Tony
Level 1: When Tony's ability is triggered, he drops down like a big, heavy rock. He's like a stronger Silver but he doesn't loop.

Level 5: Tony's ground pound is cooler now, literally. When dropping down, his shockwave can freeze pigs and blocks in a radius. N-ice!

Finland Feathers!

Tony is extremely similar to Terence, that is because Tony is Terence's cousin from the North! Unlike Terence, he has a light-blue plumage and furry feathers, probably because he lives in the north. Tony likes to fish, swim and do other winter-related activities, he won the Winter Birdolympics 5 times. Because Tony is similar to Terence, he gets heavier when he gets angrier, which is probably the reason why his ability is dropping to the floor. Terence visits him on holidays and they watch the Northern Lights (Aurora Borealis).

Strength and Ice
Blu
Glides into incoming structures.
The Rio tie-in!

Trapped by smugglers, Blu, a Blue Macaw did not learn to fly. Now he lives in the Amazon Rainforest, where he belongs. Blu and The Flock met on several occasions. Now, he's back to fight those pigs!

Unidentified
Nico and Pedro
Nico and Pedro spin on Nico's bottle cap in a little zigzag

to bash into multiple stashes of bacon.

Two of a kind!

Nico and Pedro are best friends. He and Pedro became friends with Blu when he first came to Rio de Janeiro. They also own a Samba Club within the marketplace of Rio. After the events of Rio 2, The duo found Riba from a rift in space. They predicted that these unfortunate events are probably going to get worse so they got through the rift and they end up upon Piggy Island where the eggs are stolen. Now, Nico and Pedro follow Blu and The Flock on their expedition.

Unidentified
Chet
Chet ricochets into structures, meaning that he can bounce off of one object and crash into another.
Ricocheting Racer!

You can say that Chet is the "mischevious type", much like Bubbles and the Blues. He likes to play pranks, but unlike the Blues, Chet plays pranks on the pigs rather than the Birds. Chet is also known to be hyper and to zip all over Piggy Island. His best friend is Bubbles and he usually does pranks with him.

Aerodynamics
Dodo
Dodo's power is to summon the spirits of his past dodo tribe, Giving him an advantage for more damage.
Dodo Doom!

Dodo was from of the past, of all of his species, he is the only one that survived. Dodo lived in the 17th century with all the other dodos, until pigs came onto his island and stole their eggs for their majesty. Dodo was curious, that he snuck onto one of the pigs' ships which went to Piggy Island, where he went to the mountains, and freeze there for a long time. Sooner in the 21st century, the Flock found him and defrost him, bringing him to their nest, become a member of this Flock. Dodo is still very naive and doesn't know much. Dodo is, however, able to summon spirits of other dodos.

Dark and Anger
Poppy
Spins rapidly downwards "drilling through blocks", like Garretto, but drills downwards.
Poppied Pranks!

Poppy is the "original prankster" of the flock. Prankster Poppy's wild, mischievous and crazy as a coconut! Poppy won't let anyone get off easily, especially if they're green, round, and like to snort. Poppy is similar to Chuck in a way, very, very similar attitude. Poppy likes to bang on her drums, creating havoc for Red and Stella. Poppy just hates it when she is told to be quiet. She likes to be on the fast lane and would not care, so don't interrupt her and her "music". Sometimes her practical jokes go a little too far, but friends always forgive her in the end - because that's what friends do! (Chaos will be all over the island if The Blues and Poppy make friends if you know what I mean.)

Luca
Luca screams at a very high volume of sound; causing fragile glass to break, and pigs popping due to being unable to take the sound.
Extreme Scream!

Luca is just as playful and cheerful as you'd expect a hatchling to be, and he also loves to wander off without letting anyone know! Luca doesn't speak a lot but his best trick is imitating the noises around him. Luca is just as playful and mischevious as the Blues, and he does a really good mimic, so Luca could be the fourth of the blues when he gets older. The one thing you should never, EVER do to Luca is to call him a baby, or else you will get a big earful, YOU HAVE BEEN WARNED. By the way, let's see what happens if we put Luca and Holly in a screaming challenge...

Willow
Level 1: Willow will slow down and proceed to spin as you tap and hold. Then she shoots herself in the direction she is facing, drilling through objects before stopping.

Level 5: Willow's spin now can splat paint, not much fairly, but like Lily, the paint doubles the damage of birds with the same plumage color..

Dream On Willow!

Willow is the daydreamer of the flock and she always has grand ideas! She is also a great artist of the flock. This willowing wonder is a free spirit but she is a bit shy. Willow likes big hats - and since she is a bit shy, they're great to hide beneath! She would have her feathers ruffled if the bad piggies those pigs behaving badly and destroying their natural habitat while they search for the Golden egg for their Queen, Gale. However, Willow has a pretty cool trick that she plays on them - she creates artistic images that can fool dumb swine - anytime!

Peace and Color
Dahlia
Dahlia can go through solid objects, after phasing through, she uses a force that launches blocks and other surrounding objects away.
"Smarty Bird!"

Dahlia's Golden Island's science guru and only gadget geek! She expects zero-percent-nonsense from other feathers of the flock. Dahlia loves concocting new experiments to create a variety of new things. She used to be Plum's Tutor until Gale caused so much havoc that he had to leave. Dahlia is pretty impatient and gets quite angry if anyone disturbs her experiments or if the results don't work out as planned. But what if she gets it wrong? She will keep on trying harder and harder!

Intelligence
Gale
(Coming Soon)

The Bird Of A Villain!

(Coming Soon)

Barry
Level 1: Barry sucks in up to eight blocks like a tornado, and launch them back at these baddies. Now that's a taste of their own medicine!

Level 5: Barry can now suck in ten objects! And he spits them all out seperately all over the place! Good for crowd-control!

Vaccum Shooter!

Barry has a mask covering his beak which acts as a powerful vacuum. He has a worry that his beak would vaccum the birds and the eggs, so by wearing a Bandit Mask, he doesn't worry about this. He can be a bit cowardly at times, though, despite his powers. He is also a bit non-social and has many secrets he keeps to himself because he's been stuck in Desert Island for a long time. In the desert he learned how to vaccum up water, and know that he's free, he is joining the right fight!

Garretto
Garretto drills onto wherever tapped with his beak. Similar to Poppy, but he drills the other way. His kind of "drill" is to automatically speed through blocks and takes some time to destroy hard materials like stone.
Mining Master!

Garretto is a very friendly member of the flock. He likes to go and collect resources and stuff to improve the slingshot. But his favorite hobby? He loves to mine and collect valuable, yet unknown and precious crystals. He's an expert because he knows every strategy in the book. Garretto doesn't want the blues to come, not because he doesn't like them. The reason why Garretto doesn't include the blues in his mining expeditions is that he is very worried that they could get hurt, and it gets worse if Red finds out. Garretto's love of adventuring won't stop today, or tomorrow, not even in seventeen years!

Plum
Plum ignores gravity, flying easily through blocks, but can struggle to break 3 to 4 blocks of stone.
Feathers of Intelligence!

He is known for being the second intelligent bird of the flock. The first being Dahlia. Plum is usually cool but is less silly and calmer. Actually, Plum used to be with Stella's flock, and his tutor was Dahlia who always thought his science. Then Gale trapped him and sent him off in a cage in a cannon, sent by the sea to the shores of the Piggy Island. Meeting the Blues and their flock. Plum still studies science now and he's studying the story behind birds being the descendants of dinosaurs, no bird brain here!

Intellingence
Gary
Gary runs into structures with his long feet. He can destroy glass and wood but can't destroy stronger materials.
Road Runner!

Yep, Gary is the only bird with feet in he entire Piggy Island! Although his long legs might probably get him tripping over a rock. Gary used to feel like an outcast, lonely and strange because of his leg limbs, but eventually, he decided to step out of the dark and fight the good fight! He can run across structures and demolish them with ease-yep, this road runner is not to be messed with!

Sasha
Sasha uses her feathers as projectiles that launch from all sides, they are also sharp, beware!
Peacock of Colors!

Sasha is a colorful peacock who once lived in a kingdom near Gale. Eventually, Gale had fights over who claimed land, and soon they had a war and Sasha was forced to migrate, only bringing her crown. She ended up staying with Barry and his flock. She and Stella feel the same way about Gale. Sasha is pretty feminine and doesn't speak about her past too much, but that doesn't mean she's shy. She is of everyone-even pigs, unless they put a snout on the eggs, meaning she's kind of gullable. But mess with her and you'll get launched feathers from all sides!

Volt
Volt uses her shocking capabilities to summon a thunderstorm cloud above the toughest pigs on the level, delivering fresh and hot electricity.
BzZt-ing Away!

Volt is a shockingly fun bird. She has some trouble controlling and maintaining her powers, like Bomb. Volt electricutes herself every few seconds, which is like having elelectrical hiccups. This interrupts her words when she's speaking, however, after the hiccup she just continues to speak as if nothing ever happened. Her main tactic is to keep'em zapped, especially the bigger baddies. Volt enjoys creating a thundercloud and sending it to a pig to prank them! She is a bird with shocking talents and abilites. She is a great friend and tries especially hard to control her powers when around her pals.

Strength and Electric
Wind
Wind topples towers and pigs down with...Wind. His strength depends on how long the player taps and holds.
Owl of the Wind!

Wind is calm, and also wise, he represents the owls as the symbol of wisdom. Wind always tries to solve things without being aggressive and violent, however, that doesn't mean it's OKAY to provoke him!(Which includes the curly tail baddies) Wind is friends with a bird named Psy, he also has a twin named Arctic. (Please add more here, JrkPlays)

Psy
With the power of her mind, she uses telekinesis to pull things towards her like a magnet, and then pushing the objects outwards.
Mind Power!

Psy is a green hummingbird and plays a motherly role of the flock. She cares a lot about the others and likes to meditate! Psy likes things that are cute and flowers because she is a hummingbird. Psy has a gem on her forehead giving her the power of telekinesis. (Please add more here, JrkPlays)

Artic
Artic bolts out three ice shards that can freeze objects or completely destroy them. Now, that's some cool ability there!
Twin Wind!

Artic is Wind's twin. Appearently, he is peaceful, wise and calm like Wind, but he would always prefer to have fun and not be so serious, Artic will always know when it's action time and will use ice as his advantage! (Please add more here, JrkPlays)

Ray
Ray can summon thunderbolts from the sky at the aimed pig. The main reason why you shouldn't mess with him.
Angry Thunderbird!

Ray is like the Red of Wind's flock, that's because he's almost always angry, so don't expect any happiness from him! His lightning might be why he is such a thunderbird. He will attack any baddie, so if you're one of them, you'd better run before he puts his face of angryness on! (Please add more here, JrkPlays)

Puffy
Puffy will inhale the oxygen around him, causing him to inflate, and blows out all of the air later on. He's a puffin!
Puffin' Puffy!

Puffy is a little hatchling, who is, like other hatchlings, small and innocent. However, this little guy is just as big as a prankster like the Blues! Puffy wishes one day, He will soar the skies! Although...that may have to wait. Puffy was birdnapped with his brothers when they were just in their eggs. Just as King Pig was about to make them pig food, Wind was watching and he dashed with the group to save Puffy. Puffy is one Puffy hatchling!

Bourke
When you trigger his ability, he makes a green forcefield and make his surroundings in the forcefield defy gravity, until it goes away and the objects drop to the ground like it's rainin'!
Levitating Surroundings!

Bourke is a greenish-teal bird that easily gets confused, but he is usually happy with company, especially with the rest of Chuck's Flock. Bourke loves to go fishing in the waters of Brookport Minor, and likes to hang out with his friends and do stuff that entertain them. He once tried to juggle whilst spinning, but accidentally fell into a cave with some green mystic water inside, giving him his gravity-defying powers.

Karla
Karla is one stealthy bird! When her ability is used, Karla will spiral away from her previous location.
Viral Spiral!

Karla is a really optimistic and joyful magenta feathered-flocker. She's usually overflowing with energy and loves to do parkour, so much that she learned how to spiral around in just thin air… just by constantly front-flipping. She also likes to play sports using washed-up stuff from the beach, if she happens to find a tennis ball randomly lying around in between two tennis racquets, you're immediately in for a competitive game of tennis.

Damian
When the screen is tapped, Damian will send out wind in front of him, that returns by tracing out a square. It's like he has some sort of invisible boomerang!
Invisible Boomerangs!

Damian, the orange-red bird, is a delightful bird which enjoys many activities and hobbies, one of these hobbies that are enjoyable to him is swimming, but he usually does this at different times to when his pal, Bourke is fishing, as he could accidentally be fished out of the water. Damian is also a very environmentally friendly bird, so he opposes Bourke's fishing, but still likes him. He uses the right Kung Fu maneuvering technique with his feathers and body to create the perfect wind boomerang to blow away those green swine.

Junior
When the player taps the screen, Junior can "phase" through any nearby structures. Pigs, take note!
Pure Mischief!

Junior is a young, mischievous and innocent lime-green colored hatchling who gets happy very easily as he loves adventuring and exploring Brookport Minor and telling funny and practical jokes to the rest of Chuck's Flock, most being very bad, but others being purely funny. Junior has walked and roamed around Brookport Minor so much, with all the times he almost fell off things, he learned how to become safe by grabbing on to the terrain he's on, but when he's propelled at a piggy tower, his self-defense helps him phase through structures.

Anton
Anton's ability is that he can wall jump four times. Now that's some serious rock climing for an old bird!
Old and Wise

Anton is a dark blue bird, who is the oldest bird in Chuck's Flock. He is usually grumpy when he's bored, but… Anton is always relieved when he's having fun… especially when he is rock climbing! He is also very wise, as he owns a small library inside of his bedroom when the rest of Chuck's flock ask for advice, he walks up to one of his bookshelves, grabs a book, sits back down, and starts readin'. Junior treats him as if Anton was his grandfather, while the others treat him like their father.

Logan
Logan pecks at the structures when his ability is used.
Pecking Power!

Logan is friendly, but annoy him once and you will know the strength of his super sharp beak! He will fight with his enemies and take it seriously. No one messes with him because of his beak that he is feared of. Logan is friendly to likely everyone, except for the pigs. He hates all of them! The reason is that they were the ones who trapped him and the rest of Bubbles' flock.

Gummi
Gummi eats all blocks in a radius, inflates and pops.
Hungry for more!

Gummi is rather childish and loves to move. He admires candy, he would do everything to get it, similar to Bubbles. When he is bored, he always annoys Hal most of the time and Hal wonders why Bubbles keeps him around. Gummi is friendly to everyone in his flock, including Hal even though Gummi annoys him, but Hal finds him annoying. He never hurts a thing, only if they get on his nerves, by accident, or whoever is a bad piggy.

Holly
Holly uses a magic book to summon a Callahan which uses his powers and Holly screams in a small radius.
Insane Scaredy Cat!

Holly is a scaredy cat, a coward. After meeting Callahan's ghost, she promises him to revive him. She finds a book of spells, which the Pigs used, to try to do it. She doesn't want to lose someone again.

Callahan
Callahan dives in a -45 degree angle, similar to silver except that he dives forward.
Deep Diver!

Callahan loves to joke-a lot! He's a bird filled with laughter and he's quiet-usually if someone wants him to zip his beak. He likes to be with most of the flock, and they like to be with him too! (Except Logan who finds his jokes pretty much annoying) Callahan has a relationship with Holly-He is the only one Holly talks to. If the flock are getting too angry and upset, Callahan's jokes are always a clear cure.

Hallow
Hallow's beak is very strong, he can use it to swing on a ledge and fling himself.
Swingin' 'round!

Hallow is a very positive, and a bird that's always happy in he flock. He never questions one's intentions, even if they seem a bit sketchy. Don't try to bully anyone that he deems a friend, especially if the one reading this is a green-skinned pig with a curly tail, his easygoing personality will change into a blazing angry one. He's friends with mostly everyone in Bubbles' Flock. Even some pigs too! Hal slightly has a distaste for him. Most pigs seem to fear him, and even some birds!

Mysterious Fire Bird
Burns wood and may destroy glass and stone, but mostly wood.
Here one moment, Gone the next...

Not much is known about this mystical flocker. He has been spotted working with the pigs at times...mysterious. He also has been known to have many elemental forms. The rest of the info is kept top secret by the Pig City Government (King Pig almost spoiled the whole secret!).

Ultimate Turkey (Turk)
This bird which was a mighty creature spits out acidic poison that could desintigrate pigs.
Knight in Turkey armor!

please help me Squidy.

Cyrus
Cyrus sneezes at pigs, blowing them away, and at the same tim, poisoning and slowing down pigs.
Sneezy Squawking!

Cyrus is a bird that lives in Bird Island that has terrible allergies and always forgets to cover his beak, causing inconvenience for others, mainly Red, like sneezing in his bucket of Popcorn once. He is the assistant of Judge Peckinpah, hidden under his robe so he can look twice as tall. His sneezes can be extremely loud, so he uses it in the battle to confront the pigs!

Will
Will drops a trampoline below him and drops onto it, bouncing onto it and can jump to big heights. It's similar to Bounci, but the higher Will is, the higher he can jump.
Expert Trampoliner!

Will is a purple hatchling who doesn't really talk much. He is good friends with Zoe and Vincent, and they like to do some crazy stuff together! Will has a trampoline that he can use to reach to great heights! Though this can get out of hands. For example, Will got stuck in a tree branch once, so the Blues tried to get him out. Well, they did, but the Blues ended up getting stuck instead!

Teamwork
Vincent
Vincent has an aim of truth, tap on any place, and Vincent can bounce off any surroundings to get to the target. After that, The Blues will cheer makning everything shake in the radius
On-Spot Aim!

Vincent the teal green hatchling knows how to aim. He can fling himself directly at any place he wants. So much better than launching just apples. He's good at football, with his aim, he'll fling the ball into the goal straight away! (More to be added)

Teamwork
Ariana
Ariana hits a croquet ball with her mallet she swings at the spot tapped. The mallet also does damage to pigs near him.
Swinging Mallet!
Teamwork
Lukie
Lukie is speedy, he drops a sugar cube that breaks into smaller pieces. It gives pigs in a small radius a sugar rush when they eat the sugar pieces, however, after a while, they will explode.
Sweet Deal!

Lukie is a sugary bird. Bubbles always keeps on chasing him because he's obviously made out of sugar and Matilda has to try to stop him. How'd he turn into a sugar cube? On Halloween, he went trick or treating like usual and he found a house where everything was made out of sugar. Lukie is a sweet tooth so he ate everything that was in the house, then he ate a magic sugar cube and ended up turning into a sugar piece. He lived in a place far away from bird island...

Sugar
Gelatin
Gelatin is one jiggly bird. He bounces when he hits the ground but also can ricochet off blocks with a big bouncr! Besides that, can also split into two small jelly birds, then four! What a wobbly bird!
Jolly Jelly Bird!

Gelatin is a feathered friend that is wobbly and just can't stand still. (More coming soon)

Sugar
Cartoony
Cartoony drives a little plane into the structure, that can demolish wood and glas blocks.
Good ol times!

Cartoony is a bird who is just in a cartoon! He always gets into very very wacky situations. Cartoony was oringinally going to be in the magic mighty cartoons of Bird Island but he got cut off so he always made cameos in other shows later on.

Metalbird
Level 1: This Version of Metalbird will throw shurikens at pigs. And for more firepower, his yokai shark tail will blast you with a lazer.

Level 5: Metalbird will use a smokebomb to teleport to a random location, throw 5 shurikens around him, and teleport back.

The Mighty Omega Ninja!

Metalbird is a ninja with a tail which is a yokai shark! He has a scar on his beak represpresenting his past battles. Metalbird is a merciless ninja who was reincarnated from generation to generation. Pigs don't wanna mess with this bird. He's the only bird taller than Terence. Metalbird won't show any mercy to anyone that messes with him or his friends, especially pigs!

Computery
Computery may just look like a cute computer with nothing much, but think again! He can shoot out a beam that turns the pigs into pixels!
Digital Squawker!

Computery is a digital computer bird. He was just a normal, old computer in the closet at first, until one day, the computer was invaded by a virus that turned him into a bird! He is best friends with Matrix, he is a bit like his "doctor", since he knows a lots of code and can fix his code if it is broken. However, the pigs once had the idea to hijack his code and make him work for them. Luckily, Matrix has a pixelisation ability that will turn those swines into pixels! That's what those hams get! Computery is new to this world and knows little, but he is still one of a kind!

Cyber
Lach
The legendary quadruple tnt thrower throws four TNTs that have a slight cooldown before exploding. Those TNTs were "borrowed" from the pigs...
Quadruple Boom!

Lach Is a blue bird that lives on eagle island (An island near piggy island.) with his friends Mallard and Doink. He is young, but he can throw TNT like no-one else! He also likes video games.

Mallard
Mallard sends out three explosive clover shurikens. When the clovers are shot out, they explode immediately in contact with anything. The power is not as strong as Bomb's explosion but is useful.
Four-Leafed Fury!

Mallard is the leprechaun of the flock. He brings a four-leafed clover which makes him a lucky ducky! He lives in Eagle Island but originally was hatched in Ireland. He has Lach as a friend and they really like to hang out. (Add more here, Lach)

Doink
Doink acts like Bounci and Garretto at the same time, he rebounds and then he drills through anything his beak pecks
Bounce 'n' spin!

Doink is a bird in Lach's flock can be a bit sassy at times. But he still knowswhat's right and enjoys poppin' those piggies!(Add more, Lach)

Cameron
Cameeon steals at least five blocks from piggie structures. After that, Cameron sprays icy breath to make pig defenses easier. And then, Cameron spits out fireballs that destroys wood easily. No one messes and should mess with Cameron!
When temperatures get mixed!

Cameron's a cool flocker. His best friends include Barry, Icebomb and Blaser. He loves to help others rather than himself. He's polite, but that doesn't mean that he isn't into extreme sport! How did he get these supernatural powers? The pigs splashed a potion on him and trapped him and tried to extract his anger. However, he's now evolved to have those cool powers. He hates it when baddies come to disrupt the peace, but pigs will regret it if Cameron gets mad on them!

Lily
Lily's ability is to spin intensely in a 360 degree radius and then paint structures and pigs with paint of a random color. Birds of that color deal two times the damage.
Colorful Mind!

Lily is a generally calm bird. She has a special paintbrush and magical paint that when used together, can weaken enemies. She can also engage in a high speed spin to defeat her enemies that come to interrupt her peace! She paints masterpieces in her spare time and is rather humble, not even complimenting herself, thinking she's just an everyday bird. She enjoys hanging out with Presto and seeing his magic shows. "Sounds like a really chill bird" the piggies think. However, if they put a single snout on the eggs she will paint them maroon, then have Terence RAGE on them!

Presto
Presto shoots five bolts of magic, they are weak, but they boom out like a shotgun. They clump when shot out and they spread out as they fly to hit the porkers in the face.
Abirdcadabra!

Presto is the magician of the flock and he likes to do magic shows for birds. He has lots of tricks under his wing and he is very skillful. Presto not only uses his magic to amaze birds, but he also uses it on the battlefield when popping those porkers! When not doing magic, he ventures the island and he likes to write in his journal. Presto is very knowledgeable about others and can accomplish tasks quickly. However, he can sometimes have too much pride in himself and can act a bit like Chuck. But everyone still likes Presto the same, except for the pigs, once they mess with him, they're dead meat.

Lago
Lago's ability is to use his futuristic glasses to zap lasers at those pigs. Just tap on the location you want him to shoot and he will zap out three dangerous lasers.
Futuristic Flocker!

Lago acts kind of like Red from the far future. The glasses were from an accident when a group of bird scientists were trying to invent see-through glasses, he put them on and he had super-laser vision! Lago can be very insecure at certain times. He always likes to think he knows what he is doing and he thinks that he can get through problems doing that. Despite all that, he's a dashing defender and will protect the birds eggs good. He is also smart, as he knows a lot about Piggy Island.

Neo
Neo's ability is to use his radioactive lights to burn objects like wood and stone. Get roasted, pigs!
Aggressive Neon Grumpy Roasting Yellow-beaked Bird (A.N.G.R.Y. Bird)

Neo is pretty strong. He is very hot, and he can turn pigs into bacon by just touching them! Funny enough, he's more heavier than he seems. Neo used to be a loner because no one ever liked his glowing bright radioactive lights. He had to deal with his loneliness until one day, a flock came and they included him and motivated in so that he didn't feel so lonely after all. (Add more)

Matrix
Matrix has amazing hypnotizing abilities, he sends out waves of energy to the pigs. If a pig touches one of these waves, it will try to pop itself.
Binary Code Bird

Matrix is an unusual looking dark blue bird with a big secret, as many years ago, before he hatched, an electromagnetic beam that came from a space station, doing tests on new laser beams, shot into his egg, causing his powers to develop. All of his brothers were aware of this, especially Noise, as they didn't know what would happen to him. When he hatched, it was revealed that he had binary code glowing on his body. Later, he decided to move to Piggania, and start a new life, but went back to Earth after realizing King Pig stole the eggs once again.

Cubeon
Cubeon shoots out little lime-green colored cubes at the pigs, if a pig touches one of these, it becomes a cube shaped pig, and if a normal pig touches a cube pig, it will turn into a cube pig too. All cube pigs pop after 10 seconds.
Cube On

Cubeon is a lime green bird that is shaped like a cube (obviously.) He got a lot of attention after his egg hatched, this annoyed his brother, Split. Split decided to dress up like his nephew, Angel, and torture him, his plan was eventually foiled, and he was grounded, much to Cubeon's relief. However, Split and Cubeon became friends by playing tag. Cubeon's ability involves turning pigs into cubes, but it's not just pigs he can turn into cubes, he can turn anything into a cube just by throwing a bunch of cubes at whatever he wants, and watch it's molecules spread out, turning his desired item into a cube.

Firespark
He may look cute, but he always carries around some fireworks in case there is a party going on. Firespark can shoot out three fireworks that fly around in random directions. Afterwards, they explode, just like what any normal firework would do.
Firework Show-Off

Firespark always loved firework shows, from the 4th of July to New Years Day, because of this, he always stashes fireworks in his bedroom and uses them against the pigs. Firespark is Matrix's son, as Matrix raised him, and taught him what his ability is. However, his cousin, Angel, constantly tried to torture him, but after going to Anger Management, Angel stopped torturing him, and became his friend. Firespark was named for his love of firework shows, as fireworks always burst into sparks of fire. Pigs try not to mess with him, as he is "the reason you can't be near fireworks."

Corney
When the screen is tapped, he unwraps his leaves and tumbles towards the ground, when he touches the ground/tower, he breaks into pieces of corn, which can disintegrate blocks.
Corn Amazement

When it comes to fighting pigs, Corney is no joke. Corney is Crazy's twin brother, and he constantly played around with him as a hatchling, that is all that's known about his early childhood, as his true nature of why he's a living piece of corn is unknown. Corney was kidnapped by pigs several times due to his "deliciousness", but every time he was kidnapped, he was easily saved. Corney is the most mysterious bird in Piggania, as no one knows why he is a piece of corn, not even he knows. He may be adorable, but to the pigs, he is no laughing matter.

Crazy
When the screen is tapped, Crazy becomes extremely crazy by flying about in several random directions, afterwards, he explodes. However, he survives the explosion, and falls to the ground, getting hurt in the process, afterwards, he disintegrates.
Angy Burdz

Crazy really is a crazy bird, but he isn't a useless bird, especially when fighting the pigs. Crazy is the twin brother of Corney, but he doesn't know that, all he knows is that he is his best friend. Crazy had to crack his egg in order to hatch from it, and when he did hatch, he had to jump into molten lava in order to grow up. Crazy has a very low IQ and is very idiotic, as his brain is smaller than a pea. He has feathers in many different colors, in fact, he has the colors of all the original 8 angry birds, including Chet. Crazy may be dumb, but he has no limits to his craziness.

We Don't Know.
Zoom
When the screen is tapped, Zoom creates a long flaming trail in front of him, and it goes through structures, afterwards, he teleports to the end of the trail and destroys anything the trail goes through, all within the matter of milliseconds, then, the trail disappears.

By doing this, the creators of the game make it look like he's going faster than Chuck.

Speed of Sound

Zoom is a fast little birdie. Why? Well, the answer is unknown. Zoom got his name for his need for speed, as he is constantly full of energy and excitement, but even with that research, we still don't know how he is so fast compared to Chuck. Zoom is so fast, some pigs claim that he doesn't exist, as all they see is a gray colored blur speeding across the grass, But enough about his speed. Zoom is the baby brother of Noise, Matrix, and many other birds, and umm… he has gray feathers, and uhh… he's cute, who am I kidding, speed is his only major feature, especially to pigs who try to protect themselves from this energetic hatchling.

Teal
Teal can make annoying sounds that can annoy pigs to the point of popping. Teal's ability sounds similar to that of Matrix or Dane, but his sound radius is smaller, and he cannot break glass, also, he is weaker than both of them.
Annoyingly Adorable

Teal is the youngest member of Noise's Flock, as well as the cutest, so whenever you look into his adorable little face, you can immediately tell how cute he is. However, Noise, his brother, freaked out when he first looked at him for an unknown reason. Teal's name is actually ironic, as he is more of an aqua-turquoise colored bird than a teal colored bird, he was just called that because his feathers look teal to his flock. Teal's ability is to annoy pigs until they pop, using the power of… annoying sounds (annoyingly, it works). Teal is a very cute bird, but pigs refuse going near him, as it could be annoying.

Noise Jr. (Josh)
Does a really angry and high-pitched battle cry that blows down structures and breaks glass but does no damage to pigs. Useful for levels using glass.
Little bundle of ANGER!

Think that Josh is really just a baby bird that does nothing special? Think again, Josh is just as fast and furious as his adult counterpart-Red. He hates pigs a lot for once, they knocked over his Angry Birds Playset, but pigs regretted that as they got chased wee-wee-wee, all the way home. Josh is just a little version of the dashing defender who found him. He can lose his temper if anyone dares to annoy him, including if they are the servants of the big fat king porky.

Speedsty
When tapped, Speedsty will speed up like Chuck but has more force than damage done to wood and other blocks.
Dojo Hatchling!

Speedsty is just as speedy as Chuck. He really likes to use his ability to create a mess to create a pig tower topple. Speedsty loves Taekwondo as much as Chuck does, he practices it every day on the pigs. Red just hopes that he doesn't use his speed ability to do the stuff that Chuck usually does. Speedsty will although make sure that every time he uses the sling. The pigs will run out of luck soon enough.

Grenade
Grenade's ability is to speed up and after that, he explodes immediately, he also relies on force more than damage.
Baby Bombster!

Grenade is a very Bomb-like bird. In what ways? This bird loves to play pranks on other birds by sneaking on them and blowing up. He would also try to act like a comet sometimes by using the slingshot and terms of speed to make it look realistic. Grenade is quite chill and he usually never gets angry. However, Grenade loves to prank even the pigs, in a smart way. He would go into a TNT crate chamber and blow up. The pigs get quite annoyed with this small guy wreaking havoc in the village!

Madelyn
Madelyn sings a lullaby that will make pigs near her fall asleep. This one Madelyn knows how to avoid the pigs!
Cute Chick!

Madelyn is a peaceful and also a cute bird. She will try to solve arguments without violence. She hates it when those pigs try to interrupt the peace and will try to stop them in every way possible! She's a close friend of Grenade, those two love to draw together and they also love to roleplay. In fact, they have their own roleplay theater for all birds to come. Madelyn acts as a motherly figure to the hatchlings. Although Madelyn is all cute and all, that does not mean she ain't a good shooter!

Hockey Bird
Hockey Bird swings a puck that acts similarily to the Hockey Pig's puck. The puck can bounce off walls and structures, as well as pop pigs!
Play Fair, Pigs!

Hockey Bird is a bird with a love of hockey. He was once a bird in the flock, but one day, he left to follow his dreams of playing hockey for the world and competing with others. Hockey Bird loves his puck a lot, and he'd be worried if anything bad ever happened to it! Hockey Bird came back to Piggy Island and is currently competing with those pesky Red-Helmeted Ice Hockey Pigs...

Mintie
Mintie can change his color randomly. His ability is based on his color so he will act like the birds in the color. He will change very randomly, so pigs must watch out!
Multicolored Madness!

Mintie is ben's hatchling he loves apples and he has a disease of RAINBOWS!!! and he's a close friend of Sparkle. he came from an abandoned egg that ben rescued now this hatchling learns how to fly using jetpack run.

Color
Icebomb
Icebomb likes freezing stuff. He isn't as cool as you think him to be, piggies! When he freezes stuff, he makes it easier to break'em!
Cold to touch!

Frozen Pork? Icebomb's gotcha covered. He has a world made out of ice and he will try to protect his eggsteroid from any baddies. Before, a land of ice birds appeared on that land, before they were abducted by Pigoids. He was the only one to live that was holding on to this eggsteroid for a long time so that he can keep his race going. Or else they will die out. He has a very protective personality like Red. Blaser helps him to keep his eggsteroid safe as he lives in Danger District with maximum security.

Blaser
Blaser's basically a fire-breathing dragon in bird form! He breathes fire which can destroy glass and wood easily. His power is a bit like Red's but instead of air, it's fire.
Blazing Birdie!

Blaser may be hot to touch, but he talks cool! He lives in space with his friend, Icebomb. He has his own house in Danger Zone, despite the fact it was pig-made, He "borrowed" a part of it, and made all the porkers flee thanks to his super-special fire breathing abilities. Blaser always tries to cool Icebomb down whenever he gets very angry. Blaser helps Icebomb in protecting the Eggsteroid from the pigs who think that the eggsteroid is an actual egg. So basically despite the fact Icebomb is Ice and Blaser is Fire, they have opposite personalities! (If you get what I mean)!

Fire and Anger
Shade
This shady dude uses his shapeshifting abilities as an advantage to punch green-snouts.
Dangerous Doomster!

Shade is one mysterious bird. He formerly was a time villain, known as Time Commander Bird. The flock encountered him in a very secret and mysterious world. Upon his defeat, Shade decided to give up and join the flock. The bird has two alter egos, if he gets angry, he turns back into his evil, time commander form. But with a single hug and he goes back to normal. He has Silver as a buddy because they're dangerous to deal with, they are BFFs! Other of his friends include Samantha and Red. He's not just energetic but also hazardous to swine health!

Dark
Myusix
Uses a recorder to squeal at pigs to break their eardrums
The bird from Japan!

Myusix is a bird who was born in Japan. She's very shy but at times insane and innovative. She really likes to play the piano passed down from her father. She loves to play piano to impress people since she had piano lessons from a girl named Riko Sakurauchi. She first met Shade and Plantus when they unexpectedly arrived at Japan. The three are best friends. Now she second in command for Shade's Flock, The Legion.

Plantus
Plantus uses spikeballs that he could blow at enemies. So basically the Ptooie of the birds.
Held upon a curse

Plantus is a bird that was once a Piranha Plant. He was held upon a curse upholded by the Cursed Birb Belt. So how did he get the belt? He went into E.gadd's Dimension Hopper to the exact and unknown corrdinates of the belt. He wore it for curiousity and got held upon the spell. He has STML (Short term memory loss) that was effected by the belt. So he has a notebook to refresh his memory. He has been travelling far and wide for a place to call home. Then he found Piggy Island and met The Flock. His friendship with them reminds him about his friend with Mario & Luigi that this memory will never be truly forgotten.

Peace
Evangelion
Uses a lazer beam that turns into multiple to bash into multiple stacks of pigs
A cruel angel's Thesis

Evangelion is a experimental project by the PORKO corporation. During the early times (Before the Great Egg War) They used it against the Ancients, an ancient civilization made of Cubicons. Lilith and Array found the robot codenamed EVA Unit 07. After washing off the vines and moss off the robot and found that there's a switch for conscience, thus turning the robot sentient. Now, this sentient robot is the known soldier of the Legion. He gets riden once in a while. But the only people to ride him are Lilith, Plantus, and Shade

Array
Zooms very fast at very fast speeds to bash into several hitboxes like projectiles and objects.
The Undisputive Master!

Array is a fusion of a Numberblock and a generic bird made by the one and only Plum. He's does care for his flock but he's a bit of a braggart. He does have a crush on Myusix. (Weird right?) He posesses many Numberblock only abilities like levitating via array, and the holowatch a watch that gives a holographic display of arrays but the device is only possesed by super rectangles like Twelve, Eighteen (Array), and Thirty-Six. He likes to be super fast and always challenges people into a race. The person who Array wants to race is none other than Chuck!

Lilith
Lilith has extreme bad luck that could spread to other pigs. Pigs use your good luck charms
The Unlucky Chūnibyō!

Lilith is a member of The Legion. She is an antisocial raven and friends with Myusix. She is a Chūnibyō which means she thinks that she's supernatural. Myusix and Lilith went to the same kindergarten which means they have a great relationship as friends. She calls herself Lilli the Demon due to her bad luck. That said bad luck can be spreaded to other people but when spreaded to pigs well that's an A+.

Dark
Sarah
Sarah uses a snowflake to send in mini snowstorms that freeze pigs. Porkers, get your sweaters cause things are about to get cold!
Snowy Serious!

Sarah is a snow-bird that's quite serious. She usually thinks that she knows everything and can be a bit of a braggart. Sarah is self-centered most of the time, especially around her friends. (Please add more here, Omega)

Ice
Terminus
His face will be exchange for a eye in his beak. He will shoot 3 pellets from his beak that will multiply and poison pigs.
Spirit Unleashed!

Terminus was a bird who died but still lives as a spirit. He died in a battle, one that was not established. Terminus is mostly happy and positive. He always has a juice box of positive energy with him since he's a reincarnation of Void Termina, a being that was banished by four friends of yore. In times of crisis, Terminus is willing to help friends.

Unidentified
Hello
Will make pigs say 'hello" When the pigs say hello, They'll explode
Soundwave Shockers

.... . .-.. .-.. --- --··--     ..- .... .... ....     -.-. .- -.     .- -. -.-- -... --- -.. -.--     .... . .- .-.     -- . ·-·-·-     .. ..-.     -.-- --- ..-     -.-. .- -. --··--     .--- ..- ... -     .-- .- -. -     - ---     - . .-.. .-..     -.-- --- ..-     - .... .- -     .. ·----· --     ... - ..- -.-. -.-     .. -.     - .... .. ...     .-- .- ... - . .-.. .- -. -.. ·-·-·-     --- -.- .- -.--     -- -.--     -. .- -- .     .. ...     .... . .-.. .-.. --- --··--     .-- .... .- - ·----· ...     -.-- --- ..- .-.     -. .- -- . ··--··     .. ·----· --     .. ... --- .-.. .- - . -..     ..-. --- .-.     -- .. .-.. .-.. .. --- -. ...     .- -. -..     -- .. .-.. .-.. .. --- -. ...     --- ..-.     .... --- ..- .-. ...     ... ---     .--. .-.. . .- ... . ·-·-·-     .--. .-.. . .- ... .     .--. .-.. . .- ... .     .--. .-.. . .- ... .     .-.. . -     -- .     --- ..- - -·-·-- -·-·-- -·-·-- -·-·-- ··--·· ··--·· ··--··     -·--· ... - .- .-. - ...     - ---     -.-. .-. -.-- -·--·-

Unidentified (We can't because she's just lonely and does not want to talk)
Puyolin
Will turn blocks into blobs that will pop
Mean Bean!!!

Puyolin is a puyo bird. He's more laid back and will tell people to go with the flow. Puyolin can change his color on command or what emotion he's feeling. He always likes to help people when they're hurt or in distress.

Elline
Will make 17 copies of a pig and the copies will rebel against the pigs
Parched Painter

Elline is kinda like Willow. She is an artist at heart. She mostly spends hours on the canvas. Millions and millions are spent while painting. And at some cases, she likes to paint a portal to the art dimension.

Color
Cannon
Cannon uses a cannon (obviously) that shoots cat aliens at green baconiers.
Bootleg of the Bunch!

Cannon is the known Purple Bird that Red burnt in the World's Largest Oven. He needed to take matters in his own hands to create, the new flockers of modern time called the Bootleg Flock. Cannon gained infamy by getting a video on Youtube that was ludicrously low quality. He questioned why would he have done something so dumb. So he said sorry to Red and Red forgave him. Now Cannon is known as: "The Outcast".

Unidentified
Lucy Love
Lucy shoots seeds that turn into bombs and then explode into pink mist. The seed bombs deal damage while the mist makes it unable for pigs to attack.
Hearty but Harmful... to a Pig!

(COMING SOON)

Unidentified
Archinga
Uses a grappling hook to lock on target then uses a knife to impale pigs or a plunger gun to shoot snouts.
OMG! IS THAT JOKER!?

...False alarm, it's just Archinga, one furious bird who hates pigs. Archinga is a bird of weaponry and some mischief.

Knitter
Knitter uses her knitting sticks like darts! She has two, so you can use her ability twice. Now that must hurt.
Ad-knitting-ly Kind-hearted!

Besides Zeta, Knitter also lived in Eagle Island with her. She likes to knit blankets and towels with her knitting sticks, especially for the needy. She is kind hearted and courageous, she says even a little thing can help the whole world, and she's right. Knitter doesn't want to be part of Zeta's Plan, it was rumored that she was in a newspaper. After chaos struck, she took an Ice Ball to All Terra, where she now lives peacefully in a cottage on Eagle Mountains!

Peace
Noise
Noise will lock on the target that is tapped. Long tap, and he will make a loud squawk that will scare pigs to death. That's a furious as you think it to be.
The Lost Red Bird...

Noise is a bird in the original Angry Birds flock a long time ago. He is pretty much Red's best friend. Noise went missing when there was a giant battle between the birds and the pigs. A few years into the present, the flock got sucked into a wormhole, and they find out that Noise actually escaped to an island inhabited by birds, and he joined the flock on their expedition. Noise acts a bit like Red, they even look the same! However, Noise is more calmer and not so overly angry about almost everything.

Goldy
Goldy has two abilities, her first ability is to go to the tapped direction after that, trigger her ability again and she will do a loop that results in some damage. PIGS, you should be worried!
A Bird of Gold!

Goldy is an anxious and she is also quite worry-ful. She constantly feels that she is watched and she never stops to sit down and relax because of that. Because of this, she doesn't have any friends. She tries to befriend everyone but she fails, but recently she has befriended more people.

Skyler
Skyler zaps a dangerous burst of electricity at the targeted pig which spreads to other pigs, they will be bacon in no time!
Bird of the Skies!

Skyler is a courageous and bold bird and she seems to be very aggressive from her looks. But in her heart, she is kind and sweet. But if she gets angered by others, she will just strike them with electric instantly! Skyler doesn't have many friends due to her aggressive attitude. Pigs hate her a lot, of course, but even some of the birds don't like her! Goldy is one of those birds, she gets irritated by her lightning bolts. She has one friend, although, and her name is Daisy, and she is a pig. They are best buds, but they have to hide their friendship from the birds and the pigs.

Beck
Like Stella's Pink Flash, Beck will dash through the stage popping any bacon in her sight.
A bird with no alligiance!

Beck is a bird who hasn't been spoken of but is still known. She always gives the birds tips on several adventures. She's always kindhearted but does live a solitare life. She has little to no friends whatsoever. But when danger strikes she'll always come up for the test.

Reece (Credit to Yoshifan1219 for the picture)
Level 1: Reece carries a lightsaber and he swings it when his ability is triggered and goes to the direction tapped.

Level 5: Reece uses his wand on his left wing to lift up objects slowly, and then crash them down for a good amount of damage

Swordsman Mage!

Reece is usually independent, but he still takes care of his own flock. Namely the Unique flock, with Rainbow, Cloudifer, Bounci, and Piggy. He had an old friend, named Riba, he was a pig, they made friends since they were just hatchlings and piglets. Unfortunately, Riba went down another side when King Pig made a rule about pigs and birds, and Reece was left on his own. Later a bird named Rainbow picked him up and together, they formed the Unique Flock. A few years later, he was known to be trapped in Foreman Pig's powerful vacuum cleaner. The Blues and their new flock had found him and they fought the King once again!

Rainbow (Credit to Yoshifan1219 for the picture)
Unleashes a rainbow flare from her screams. Her beam can zap through obstacles
Colored with Joy

Rainbow is very cheerful and optimist bird. She loves art more than anything else and is knowledgeable. She will get angry if someone were to ruin her art. Rainbow spends most of her time drawing, building new additions to her tree or the other's homes, or pulling pranks. Rainbow is in the Unique Flock. Since she and Reece have been together the longest in this flock and have seen many things that must be kept a secret between the two, she often will try to lie about something if the others question it.

Cloudifer (Credit to Yoshifan1219 for the picture)
Level 1: Cloudifer can use strong winds to blow away and slightly damage snorters and weak materials.

Level 5: Cloudifier unleashes big bolts of hot electricity that set fire to wood and other flamable blocks, as well as electrify pigs.

Cloud from the Sky?

Cloudifer is a member of the Unique Flock. Not much is known about her backstory, she only remembers that she fell from the sky atop of a tall mountain and hit her head. Although Cloudifer survived, she had amnesia and stayed with the Unique Flock. She is best Friends with Rainbow, the two hang out by drawing or listening to music. She has a crush on Reece, but she finds it hard to express it because of her shyness. She always asks Rainbow for advice, but it never works. She keeps her love with Reece a secret, only Rainbow, Bounci, Matilda and Stella know about it. However, The Blues seem to know about it somehow. When the Blues met her, they thought she was covered in cotton candy.

Bounci
Bounci bounces off any ground he is shot on, making him able to Bounce slightly higher and have more power.
Bouncing Bouncer Bounci!

(Yoshi, I might need your help to write the description if I want this to be age appropriate)

Piggy
Level 1:Piggy uses a grappling hook to latch onto things either so that Piggy doesn't fall, or can be used to grab media and throw it to the baddies!

Level 2: Piggy will Grapple on whatever material the player taps. When the player taps again he will swing at full force and propel himself in the direction the player taps at.

Pork of the Flock!

What's that? A pig in a flock? You might not have heard of it, but seriously, Piggy is a member of the flock, mainly the Unique Flock. Piggy was an outcast to the other members of the King's Clan, which is why King didn't like him in the slightest because Piggy does not want to be involved with the pig's plan to take The Flock's Eggs. Because so, Piggy was constantly black and green or sent to jail. Luckily, he was saved by a bird named Reece while the Minions were circling Piggy. After joining their flock, Piggy found a Spare grappling hook at Reece's home and Reece let him keep it. He then decided to Spy on the pigs with incredible stealth and reporting back to the others if something happens.

Dane
Simillar to Luca, Dane yells really loud making a barrier called the Echo Circle. Any pigs surrounding the circle will break them piggy eardrums thus, popping them.
The Loudest Bird of all of Thee!

Dane is from Diamond Island, an island rumored to be the Diamond Turtle's home before migrating to Golden Island. He's a great noise maker but likes to read books in sheer silence. Dane is an old colleague of Red and likes to hang out with him. But in the meantime, We shall help Dane and his flock, The Rare Flock, on their adventure.

Blake
Similar to Telebird Blake uses his portal powers to teleport from one place to another.
TELEPORT, TELEPORT, TELEPORT!

Blake is a serious but carefree bird. He is a part of the rare flock He's a preposterous prankster. He always protects the Ancient Gem on Diamond Island. But he's not as psychotic as Red. He's useful in problems by solving them in silly, and sometimes CRAZY ways.

Crash
Crashes To 15 Blocks/Materials And Shoots Lazer Beams Out Of His Eyes.
Crashing Bird!

Crash Lives In Piggy Island And Now Lives In Diamond Island. He Is A New Bird Apart Of The Rare Flock When He Was Living In Piggy Island Before No Pigs Ever See Him. He Lives Underneath Piggy Island.

He Likes Hanging Out With Bomb Sometimes But A Serious Bird, Unlike Blake.

Tornadowind
Creates A Tornado For 10 Seconds To Suck And Spin Around All Blocks/Pigs
Crazing Tornado Bird!!

Tornadowind (Or Tornwind)

Is A Bird That Lives Under Diamond Island!

Infact He Is More Powerful Than The Rare Flock.

Tally
Spins For 15 Seconds To Spin Through wood and glass
Spinning Daze Bird!

Tally Is A Bird Who Is Also From Diamond Island AND Apart Of The Rare Flock.

Unlike Others She Likes Hiding In Place. You Cant See Her If She Is In Hiding! She Also Likes Spinning Around To Cut And Destroy Materials

Elict
Tap anywhere to make a lightning bolt strikes that place. If tapped again, lightning will strike EVERYWHERE!!!
Electrifying Bird!

Elict is from Diamond Island and he's a part of the rare flock. Elict is great at creating thunder! Bomb likes to see him sometimes But he doesn't get to know Him. He likes to occasionally hang out with Chuck. He was made by Professor Pig, a mixture of Bomb and Chuck, His experiment went wrong, the bird was supposed to be really fast and explode! But instead, he strikes lightning. Elict sometimes meets Prof. Pig in secret because Elict is an enemy of pigs, of course.

Spade
Spade Will Stop Time In The Whole Game, If You Tap To A Direction He Will RAM Straight To The Direction
Red-Alike Hal

Spade is Hal's Younger Brother , He Wanted To Live To Diamond Island

He Is Apart Of The Rare Flock. They Liked His Abilities So They Recruited Him.

Detray
If Tapped Detray Will Use A Random Ability From The Rare Flock
Mini-Spade

Detray Is A Bird Who Is Formley Spades ADOPTED SON, Ever Since Spade Found Him Washed Up On The Beach Of Diamond Island. He Took Care Of Detray, Detray Had NO Memories He Forgot Who He Was Or Who Are His ORIGINAL Family, But He Seems Happy To Be With Spade.

Neda
Neda's ability is to unleash a void circle (like Dane's Echo Circle) that pulls in objects and delete them, this lasts 3 seconds.
Corrupted Ca-caw

Meet Dane's Corrupted Counterpart. Daniel! Or As Everyone Calls Him, Neda, Neda Is Pretty Cocky And Vengeful, But That Doesn't Mean He Is Evil! Neda Is Kindhearted To People,Well He Is Friend's With Dane.. But He's Not That Kind Hearted Towards Him... Ever Since Dane Was Born, He Was Forced To Be Deleted. And Had A Bit Of Amnesia, When The Flock (Reds Flock) Was Taking Care Of The Eggs A Portal To A Place Called "The Void" Appeared Infront Of Their Eggs, Red And Chuck Checked What Was Inside, It Was Neda Holding Onto A Floating Television, They Both Pulled Neda Out Of The Void, His Powers Developed When He Was Staying In The Void For A Couple Of Days.

Janet
Janet throws three homing shurikens that aim for the enemy. These shurikens do not break blocks and avoid stone, as if they touch stone, they break. However, they are a one hit wonder! Watch out, pigs!
The Sixth Hatchling!

Janet is a blue bird that lives in her tree house on Bird Island. Alongside Will, Vincent, Adriana, Samantha and Zoe, Janet is a one of a kind. On one side, Janet is as kind and innocent as other hatchlings. She loves helping, especially with those who need it. But don't let that fool you! On the other side, Janet's a fiesty ninja with flower shurikens! She loves to be in dangerous situations, especially parkouring and swinging on vines. When there's pigs or cows or whatever, she's got her ninja skills, so it won't be a problem for her!

Stealth and Teamwork
Computerbirdy
This mechanical bird has the ability to soak up small-arms fire, has pressure immunity and can hold two grappling hooks at once, meaning that you can use her grappling hook twice. Use her against very tough piggy defenses!
Made for the Extreme!

Not to be confused with the other computer bird, Computerbirdy loves hanging with the birds, defending the eggs and popping those porkers. Her job is to keep a good eye on those pigs' every move. Computerbirdy usually comes from above with her grappling hooks so that those puny pigs will not see them. She's also a friend with a little piglet that helps revitalize her and come and talk to her. Computerbirdy goes to Chef Pig to try to duke it with King Pig, but it still doesn't work. She has high resistance and skills, so don't mess with her, bacons!

Futuristic and Combat
Circuit Breaker
Circuit Breaker can control a mechanism from afar and make it go against the pigs. Her ability can be used on almost any mechanism, which can be extremely useful, just imagine watching a plane dropping a missile on a bunch of TNTs, creating a gargantuan explosion!
Connect and Control!

Take Computerbirdy, remove the grappling guns, paint her sinister purple and yellow, give her red eyes, and program her with a system that allows her to control things from afar. You get Circuit Breaker, Computerbirdy's identical looking cousin! She was invented by Foreman Pig as an attempt to make a copy of Computerbirdy. Circuit Breaker was discovered then to have an ability to control and manipulate mechanisms and she was put back into storage, but fled from it. Now Circuit Breaker is a member of the Starstorm Flock, where she hangs out with Computerbirdy.

Futuristic and Dark


Warpath
Warpath is basically a tank in bird form. His ability is similar to Matilda's ability, except that it goes the other way! Warpath will shoot a missile upwards while falling down at great speed, destroying things above him. This is helpful when trying to hit aerial piggy defenses.
Birdy Brawn!

Warpath is a perigrine falcon that won't give up, and has the will of a million soldiers! He loves everything that explodes and he has an attitude of pure danger. Warpath is the commander of the bird army, however, he has one tiny problem as a commander; he can't give orders. He's just a typical tank commander, not a super muscular bird with big orders, like that Foreman Pig. He just goes in, shoots stuff and then comes out, really, he's just a juggernaut. After being shot by a pig, a bird with a wrench decked him out with some cool-looking armor, and a gun, which made him the war bird we all know today. Watch out, oinksters, this bird is coming to get you!

Combat
Io
Io can "glitch" through blocks, similarly to Dahlia's ability. Beisdes that, he can also control explosions with his mind. This is useful when there's a giant hill blocking the way, and/or if there's lots of TNT.
Horror of a Glitch!

Io is a greyish green bird... or is he even a bird? Anyway... his name is usually made fun of by those mean porkers, however, that's all definitely going to change when you see what he does! Io wasn't always a glitch bird, back then, Io simply guarded his sibling, which was still an egg at that time. One day, that was all going to change, a pig had kidnapped the bird and had soon been killed by Corporal Pig, however, he was not dead yet. Io woke up as a ghost, and started glitching as soon as he woke up. Corporal Pig was surprised and Io managed to escape, when he came back to the flock, no one even noticed Io, but Silver noticed him after a while. Now Io resides with the flock and his cousin, Silver.

Futuristic and Dark
Pyro
Pyro can spit fireballs that can explode and as well as burn flammable blocks like wood, coal and can insta-break ice. He cannot destroy stone or anything harder than that.
Ignition of Devastation!

Pyro is rather shy, but he's curious most of the time and always wants to know more. He's the son of Hal and hang out with each other all the time. They both love camping and whenever they do it, Pyro's always the first one to light the campfire - using his fire breath! Pyro often vomits food that doesn't sit well with his volcanic stomach, for example, cabbage, ice, cold drinks, and... bread. Oh, and did I forget, his barf is lava which as a matter of fact, can be used to make dangerous lava pits for those baddies! Pyro is very imaginative and creative, there was in fact this last time where he saved the world from imaginative aliens using frilly tutus and... chocolate jetpacks? Yup, Pyro's a bird with an ignited mind!

Fire
Mario
Not a bird, but is affiliated with them. Mario jumps when he hits the ground, His ability is to throw three fireballs on three targets.
Jump Up Plumber!

Super Mario is an adventurous plumber that came from the Mushroom Kingdom. He goes and takes on various obstacles and enemies to take on the villainous Bowser to rescue Princess Peach so that she can restore the Mushroom Kingdom. Once, Mario and his brother Luigi met the flock after Egad's dimension hopper malfunctions. As of now, Riba decides to use the Dimensional Emerald to open a portal that sucked in both Mario and Luigi. As the flock are on their quest, The Mario Brothers were pushed out of a vortex and they joined the flock on their expedition...

Luigi
While not a bird, his powers are similar to Mario, except he jumps higher and shoots out three freezing iceballs.
The Green Thunder!

Despite being the younger brother and constantly living in his brother's shadow. Luigi is just talented and strong as Mario, even having his own ability to use electricity, thus giving him his "Green Thunder" title. He is widely considered a coward but when it came down to saving Mario from a mansion full of Boos, he goes out to save his brother with the help of Professor E. Gadd's Poltergust 3000. He has since been able to finally be able to step out of his brother's shadow and be seen as a hero.

Dave
Dave splots paint at three different targets that slows the pigs when they try to attack the paint can splash to other pigs too, making this pretty useful.
Painting Pig-Popper!

Dave is a painted bunting with a magic paintbrush. He got lost from his nest when he was an egg, he was then left with a special paintbrush. And this will allow him to jump into paintings that he paints and he allows his paintings to come to life. (Add more DavetheFave11, you can fix any parts in case)

Icey
Icey turns 10-15 blocks into ice or water.
The Special One!

Icey is no ordinary bird as he is the son of Icebomb and Silver with Matilda and Bomb being his Aunt and Uncle! Since he's the son of Icebomb he can turn stuff into ice and but he can't breathe in space though he also goes to a place called Jamaa where animals rule! He is friends with Combo and Cerdan but he has other friends too. He is a master at Mario Maker too! (ok you really didn't need to know that)

Combo
His powers are similar to Mario and Luigi's, BUT he can jump higher then both and when tapped he slows down time and makes a powerful, explosive shockwave to knock back everything. (To Unlock, look at the Combo Unlocking Manual shown later)
No seriously, he's a character here

Combo is an adventurous plumber that came from the Mushroom Kingdom, but later moved to Piggy Island due to chaotic circumstances. He has many friends such as Cerdan, Dave, Icey, Lach and Omega. He owns a hotel on South Beach (that he "borrowed")! Anyways, he loves to help out with the flock under any circumstances!

Riba
Riba uses his nifty lightsaber like a boomerang that goes around and then comes back to him. The lightsaber can set things on fire too.
Out for Revenge!

After a heated battle with the Flock, he's decided to change and join them after King Cow takes the Dimensional Emeralds. A very long time ago, his ancestor fought with King Cow, both wanting the control over the Dimensional Emerald. He had took all of them out, but King Cow killed him. When Riba was ready, he stole the Dimensional Emerald to gain control. King Cow knows of this and came to stole it. Riba knew that he was wrong and works with the flock to retrieve it...

Skits
If Tapped Uses Skateboard To Bash Through Piggy Structures For 5 Seconds. Who's Boss Now Hams?
Skating Sensation!

Skits Is A Bird Who LOVES Skating! He Was Taught How To Use By A Skateboard From His Brother And Now Skates For Entertainment And To Keep Himself Interested!!

Desean
Desean shoots a bubble beam wherever you tap or hold. This ability has ammo so use his power wisely
A tad bit kindhearted.

Desean (pronounced Dey-Shawn) was once a part of Dr. Robert Hexenblatt's Angry Bird Management group. A bit like the Anger Management Classes Matilda hosts on Bird Island. Desean knows all of Dr. H's tricks, and uses them to calm down. Until Dr. Hexenblatt knows the unsettling truth. The pigs stole their eggs. Desean was devistated to see Hexenblatt's face for the last time after the cancelation of the program. He has one way to stop the great egg war, to FIGHT. Now, he's very kindhearted but will oblitherate any pig in sight. But he has a few pig friends like Cerdan, Ozzie, and Stalker Pig.

Lewis
Lewis flies up into the sky and shoots three projectiles from behind while you are able to control his direction, they are a bit explosive. Popping pigs is his duty!
Rotobird in The Fray!

(Yet to be revealed)

Nana
She uses the Magic English Word Flash Cards as sharp blades. Pigs, you missed your English Lesson.
Cute but Obscure.

Nana is cute and loving girl from Japan. She transferred to a school overseas because her parents were reasignned to another country. She hardly could speak English so she was lonely. But in the school botanical garden, Stella was there to help her save the school via finding the Magic English Flash Cards. Little was known about her adventure, but she's truly a kindhearted hero.

Sonic
Sonic will bounce on pigs or cows one at a time. Well be careful pigs or cows.
The Blue Blur!

Sonic is a blue, speedy hedgehog that can run at the speed of light. He has lightning fast reflexes that he uses to battle his enemies. His arch nemesis, is the evilish Eggman that he has to defend the innocent from. Sonic is known well for his cocky and sarcastic attitude, and can be kind of a show-off sometimes. However, he has a strong sense of compassion and justice for the innocent. He also has a love for chilli dogs, made out of sausages made from pork made from... pigs.
Bad Piggies
Pig
Name
Ability
Scrapbook Description
Minion Pigs
These pigs don't do anything, they come in three delightful sizes, small, medium and big.
Totally Clueless!

Those porkers are citizens of the Pig City and the servants of King Smoothcheeks, Minion Pigs are the most cheerful cannon fodders you will ever meet!

Stick Pig (Credit to DavetheFave11 for the picture)
Pokes your birds continuously with a stick, It has a 25% chance to knock them back slightly.
Stick-y Situation!

One day, this pig wants to be the leader of a pig army, Stick piggy won't leave his precious wooden stick behind, he uses it to battle birds, but he has forgotten the fact that the birds are very strong.

Rogue Pig
Rogues spank your birds with a big bat, knocking them out. Destroy the structures instead of the Rogue to defeat him.
Scoundrel Swine!

The thieving Rogue pigs are not to be messed with. They are known for stealing eggs from nests, committing crimes for their crime boss Jailbreak Rogue, and cooking you out with a bat.

Wealthy Rogue (Credit to DavetheFave11 for the picture)
Wealthy Rogue doesn't bat your birds and is found rarely, but once you defeat him, he will drop a lots of snoutlings. You need to be quick with this 'cause after three turns, he will zip away like a scaredy-pig.
Rich Robber!

Wealthy Rogue is one of the most successful Rogues in the house. He steals from the richest birds in town. (especially for those who have a pool of Lucky Coins that they dive into) He always shows off the amount of money to other rogue pigs and he has a bat bigger than Jailbreak Rogue's used for whacking pigs on the head if they dare touch his bag of riches!

Rocket Pig
Rocket pig takes to the sky to fly out of incoming danger (and birds) and slowly land on the ground with a parachute.
Launching Legend!

This pig has practiced a lot in flight and uses rocket science to get out of danger. Rocket Piggy here wanted to go to space since he was a little piglet. And now he is...using his rocket to fly away from the incoming danger of the flock.

Soldier Pig
Has a 10% chance of the bird being knocked off the helmet. He will also have more health then an average minion pig.
Supreme Soldiers!

Those piggies are the trained soldiers of the Corporal Pig who always yells in their ears. Although, 30 of them vs. The Flock, and they would never win.

Golden Pig
Golden Pig appears rarely on levels. When popped, this pig will instantly fill up the destructo-meter.
Shiny Swine!

This pig is made out of real gold, literally. Ten years ago, he found a random nugget of gold that he found in a cave, he touched it and he turned into gold! He may look different to other pigs, but hey, he's still your plain ol' easy going pig.

Angry Pig
After he is popped, he will explode in your birds' face... and other pigs' faces too.
Has Some Pig Issues!

The pig hates about everything. Friendly pigs, Friendly Birds, Attacking Birds, Being ordered by King Pig and Bills, just to name a few.

Spring Pig
Bounces continously to dodge attacks. If a bird hits it, it will bounce off and send the pig flying, making it extra bouncy. I promise you will get annoyed by him.
Da Bouncing Swine!

This jolly pig has over nine-thousand stacks of springs, he uses those springs to travel everywhere he wants. He has impressed the King Pig by showing him 100 unique spring tricks in Pig Theatre.

Beachball Pig
When a bird is nearby, he throws a beachball at the bird, flinging him back. Once he throws the beachball, he can't use it any more.
Sandy Piggy

This pig just loves going to the beach! He will go to the beach every season of the year! (Despite the fact that the beach is closed in winter) Beachball Pig is one of the superb beachball players. He just needs to watch out for those sharks... or pigs in shark disguises scaring the ham out of them.

Merpig
Merpigs swim well in water and will try to attack birds in the water if they have a trident. On land, they act like normal minion pigs.
Fishy Legend?

Back in the older pig days there were tales of creatures called "merpigs". They would try to attack any bird who approaches their land. Well apparently, here they are, but they look kinda...fishy...and for some reason, they like...eggs? Hmmm...

Ropig
Ropig hangs on a rope that is used to swing away birds. It makes it harder for the player to pop Ropig on it's own, to defeat him, hit the rope(Takes 2 hits) or the block above it.
Dope on a Rope!

One time, Corporal Pig used ropes to get the eggs. Thanks to the birds, Corporal Pig's plan failed. Looking at the plan, Ropig thought that this idea was good, so he practiced day by day swinging on ropes until this ultimate event. Although he still might be dumb; his rope is gonna make a difference. It will...

Catapult Pig (Credit to DavetheFave11 for the picture)
Catapult Pig flings himself towards birds. It can be a regular Minion or a Helmeted one. However, there is a rare chance that the Catapult Pig can be an Angry Pig or a Rocket Pig. It regenerates every 2 turns UNLESS the catapult is broken.
Flingin' Piggy!

These oinksters got tired of the birds knocking and destroying their towers, so after years and years of training with Corporal Pig, they finally have a chance to take revenge against the Birdbrained Flocksters...maybe.

Piggy-llusionist
Piggy-llusionist makes three copies of himself and only one of them is the actual piggy-llusionist. Upon defeating him, the illusions will disappear.
Piggy Tricky

The Piggy-llusionist has been studying the art of magical illusions over years and has learned a way to make copies of himself to overwhelm the birds. Although the Piggy-llusionist uses his tricks for fighting purposes, he used it in the King's Theater too! It confused most of the pigs quite a lot!

Bombshell Soldier Pig
Like the Soldier Pig, the Bombshell Soldier Pig has a hat that is hard to break, but upon breaking it, he explodes. This can be used as an advantage to the birds, however, this is one tough hog!
Explosive Helmet!

The Pig-Hazard Helmet is a test when Corporal Pig was doing some training. He thought that putting a Bomb-Helmet on a pig would be a great idea as the birds would "blow away" as the helmet is broken...well, too bad Foreman Pig's structures could not withstand an explosion so...yeah, you know what happened the last time Bombshell Soldier Pig went into battle with the birdies.

Crocodile Pig
This dangerous piggy bites birds out of water and other liquids.
Born to bite!

All pigs are always ready to fight but this one really does fight! He can go through any liquid! Well...not lava even though he has fake crocodile teeth. Our "ferocious" friend is always the one who bites it like a boss.

Boar
Boars have a 1 out of 8 chance of attacking your birds with their really big tusks with some slight knockback.
Gone Wild!

These boars really mean business. Those wild hogs are fierce but their IQs are equal to that of a raisin. These work for their boss, the Big Boy Boar. The equivalent to that of the Corporal Pig just without the loud yelling. Even though they may be wild or dumb, they are the older version of your basic piggy today! Maybe not as wild but still dumb.

Wildfire Pig
Wildfire Pig explodes when popped like how Angry Pig does. However, his explosion is way more powerful and he lobs fireballs of anger.
Anger Danger!

Wildfire Pig is Angry Pig's brother. He is three times as furious and fiery. He can even get so angry that he can produce a fireball from his anger. He has a big dislike for The Blues and he will try to chase them away. The main reason why he could be angry because they stomped on all the flowers in his garden five years ago.

Pirate Pig (Credit to DavetheFave11 for Pirate Pig.)
Pirate Pigs wield a fish bone, nothing to worry about, right? Well, it inflicts poison when he swings it that can do a number of damage on your birds. Nasty!
Plundering Porker!

These pigs are a bad bunch. They plunder treasures for their Captain, Goldsnout. Mostly gold and diamonds. They love sailing the seas and feeling the breeze but it's no time for relaxin' when their Captain is around! These pigs are just so dumb that they can't even understand the alphabet! (Because they assume that there are 7 C's)

Big Bork (Credit to ExcitedGreenPig6 for Big Bork.)
When Big Bork is hit by a bird, the bird has a 25% chance to bounce off. A strategy is to hit the structure he's on from the bottom so that he take fall damage.
Not a piece of cake!

Big Bork is one of the biggest slobs in Piggy Island besides King Pig and he just eats everything! He even ate Noise once! Big Bork lives on a planet called Utopia which is his dream planet and it is made out of donuts, cookies, waffles, popcorn and other sweets! He's going on a seafood diet, he sees food-he eats it.

Acidic Pig
Dissolves any weak birds and blocks that touch it, can only be defeated by strong birds and falling off ledges, and when it's defeated, it will turn into acid.
Too Sick!

Acidic Pig is a really sick pig, seriously! But how did he become acidic? He wandered into Proffessor Pig's lab, drank a potion that he thought was fruit punch. After that he blacked out for a while, luckily, he survived, but when he woke up, he was slightly sickly, but he noticed that he had a power to melt down things. Sick, right?!

Chef Apprentice
Chef Apprentice throws cupcakes at your birds that slow them down and makes it harder for them to use their abilities.
Cooking Catastrophe!

This pig is a assistant of chef pig, and he loves to cook! It will always be cookin' in the kitchen when there's no work. He is still a novice chef and there is a 99.99999 percent chance that the oven will blow up, but if that improves his cooking, then, he'll just keep on cooking it to perfection!(by that, I mean until it explodes)

Party Pooper Pig
When a bird is nearby, there is a 3/10 chance that he will shake everything in a certain radius about.
Just Party!

This pig will always wreck a party no matter what type of party it is! He just wants to party all day and all night long without even caring about what in the world is happening. He will go into a rampage if someone tries to break his party fun. Seriously, don't mess with him!

Construction Pig
Construction Pig throws screwdrivers at your birds which can do some knockback due to the fact it's metal.
If it doesn't work, then screw it!

These pigsters work for Foreman Pig to construct, repair and mess up. They spend most of their time exploding an extremely well constructed structure, having a lunch of grass sandwiches, and throwing their screwdrivers. They found out that a screwdriver made a great weapons, with them and their screwdrivers, the birds will have a bad time.

Ninja Pig
Switches place with other pigs when he is in danger, and has a 40% chance to throw three shurikens at your birds.
Swine of the Shadow!

This pig is always doing some type of martial art! Including Swine-kwondo, and his speciality, the pork-chop. He does it at night, and he even does it even during lunch! He works for his master, Samurai Pig. He won't let anyone pass him and his shurikens!

Brute
Brute smashes the ground every three turns causing a shockwave that stuns shot birds nearby.
Pig Ape!

This pig is always acting like a monkey. He will just do crazy stuff and will smash everything in his way!

Glue Pig
Glue Pig splats glue every 3 turns, it makes birds stuck and it slows them down. It can also make structures more stable and not collapse so easily. Use Chuck to move speed through it
Glue much fun!

Glue pig is always in a sticky situation and for some reason, he's always stuck to stuff! He found that tube of sticky glue in an old closet, it's meant to be for repairing stuff, but for him, it's a battle weapon. He loved this tube of glue ever since!

Baseball pig (Credit to IceBird2019 for Baseball Pig.)
Baseball pig swings a baseball at your birds, sometimes, he could swing a bird. But if you use angle on him you can use his baseball to hit him.
Hog Batter!

He is a baseball star! He can swing almost anything with his baseball bat! That includes apples, cabbages, dynamites, christmas ornaments, gems from Garretto, Foreman Pig, and of course, baseballs. Talk about that. Baseball Pig says that baseball is the best sport above the rest!

Ghost Pig
Ghost Pig cannot be knocked over or moved, and he is able to fly. He will also revive after two turns.
Ham of Horror!

Ghost Pig may be just a soul flying around, but he has big potential as a ghost. As a night-time job, he wears a bed sheet, only so that you can at least see him. He thinks that his job is pretty cool. Too bad everyone doesn't believe him because they can see right through him. People think that he can fly through walls, but he's put on a bit of weight recently, so he can't.

Zombie Pig (Credit to DavetheFave11 for Zombie Pig.)
This spooky pig rises from a grave as a 50% chance every turn, if he dies, than Zombie Pig can rise from his grave again after three turns.
Undead Bacon!

This rotten pig loves to eat bird brains, Zombie Pigs may be dead, but they are still dumb. Death is not the end of him yet, he just likes to sleep underground and pop out and scare birds of their feathers! They love going to the club at night and dance the thriller. Spooky!

Mummy Pig
Mummy Pig throws toilet paper every two turns. The toilet paper will entangle the bird making it hard for them to move. Like Zombie Pig, he revives after three turns.
Hog of the Sands!

Mummy Pig loves to take a good walk in the desert. Wait, what? Who would walk IN THE DESERT?! Well, Mummy Pig would. But he would never wander pharoh-way from his pyramid. He buys the best kind of toilet paper that he can find in town. It's just a matter of time now, him...the birds...and his toilet paper.

Count Pigula
Every 2 turns, he will turn into a bat, making him able to dodge objects easily, after 3 turns, he will turn back into himself, and he is vulnerable to bird attacks.
Hampire!

Count Pigula is the host of a mansion. The blues went to the mansion when they were looking for shelter, and they met him. Count Pigula tried to tell the blues he was a vampire...but they thought he was a rock star. By the way, Count Pigula only really earned the title "count" because he is good at mathematics.

Ducky Tube Pig
This piggy uses his ducky tube to safely stay afloat on water, pecking his ducky tube will make him sink.
Swine Swimmer!

As a newbie swimmer, he goes to the Piggy Swimming Pool every Thursday, and he has a ducky tube. Most pigs like to laugh at him since he's still using a ducky tube at this age, so what? He has the right to do whatever he wants! Besides, his ducky tube is like a friend to him.

Shark Pig
Shark Pigs swim around in water waiting for a bird and then pulls it down into water.
Finned Fool!

Shark Pig is no shark, he just wears a shark fin hat to scare the birds and also other pigs away. Especially those who are just swimmin in their pool and relaxing, and suddenly, a shark fin appears and they get out of the swimming pool like Chuck running to get his phone if he forgot it.

Mimpig
After two turns, Mimpig will imitate a pig that you've already encountered. Once you defeat it, it will turn back to Mimpig. You need to do this three times in order to defeat him or push him over a ledge.
Technically a Copy Cat...or Pig.

Mimpig has a really cool imitating ability. How'd he get them, you ask? Well long time ago, when he was a little piglet, his parents were deciding on a name for him. But then a tornado struck and the piglet went flying around with other objects and suddenly came back looking weird...with an ability to imitate things. So they called him...Mimpig.

Candy Pig
Candy Pig Will Shoot Candies At Your Birds, Use Bubbles for Candy Pig Because once he starts shooting candies Bubbles will eat the incoming candy, Candy Will Make Bubbles Stronger To Defeat Candy Pig,Chuck Is Also Great For Candy Pig Because Once He Got Hit by Candy He Will Have More Speed Because of Sugar Rush.

Sweet Pork!

This Pig Is Addicted to Candy! LUNCH BREAKFAST DINNER HE EATS CANDY!!!!! But Once He Had Sugar Rush He Was Dizzy, Crazy Making Him Throw His Delicious Candy Because it was too dangerous for him but it looks like when he was addicted to candy he bought a gogelplex of candy!

Dr. Pig
Dr. Pig

Can Heal Pigs In 2 Turns. Which Makes Knocking Pigs Out Harder.

To Make It Stop. You Have To Defeat Dr. Pig

Healthy Pork!(Coming Soon.)
Ice Hockey Pig
There are two types of Hockey Pigs. One blue and one red. The hockey pigs on the blue side will hit a puck that some damage and bounces off the birds. While the red ones hit a puck that immediately knocks out a bird.
Porks and Pucks!

The Ice Hockey Pigs always practice hard for their duels. The blue side usually seems to win because of their hero, Hockey Star Pig. However, one day, the Red side brang out Goliath Pig and knocked out Hockey Star. Goliath then hit the puck in the goal over and over again, making them win a lots of points. Matilda(wearing a pig disguise) starts to get angry and then joins the game. And the Blue Hockey Pigs got back on track again!

Geisha Pig
This pig uses her golden fan to fan away incoming birds. She can also use it to slice incoming objects and knockback birds.
Meditation is key!

This pig is very humble and wants to give pigs the best of life they want to offer. She's kinda defensive amongst herself but asides that she's a wise gal and a peacekeeper.

Angry Geisha
This pig will use her fan to emit way more wind than the Geisha Pig, which has a cooldown when she is vulnerable.
Angrier than Wildfire Pig!

This is what happens when you anger her. The Angry Geisha will fan out any pig or bird that angers her. Watch out for the strong winds.

Ice Squadron Pig
This pig will shoot ice crystals to pulverize any incoming birds. But that's not all, she'll use a snowstorm attack blowing birds away, and making harder to see your bird. The pig will make your levels very difficult.
Sometimes an idiot, always a tomboy.

Please help me with the description Combo,

Skeleton Pig
Skeleton Pigs act very similar like Zombie Pigs as they revive after three turns. They also throw bones at birds.
Skull Swine!

Skeleton Pig is a pig that's full of bones. He doesn't like to talk a lot... (More coming soon)

Phantom (only in the save jamaa! event)
zaps birds putting them in deep sleep like how they do in animal jam
Not pork!

the phantom is a creature you dont wanna mess with it will zap you putting you in deep sleep!

Green Arrow
This archer is a top-shot. Always trying to have a precise aim. The pig will try to desperately shoot your bird.
A desperate archer

The Green Arrow is a pig that has been behind bars for far too long and did something like in Hamshank Redemption to get out. The pig ended up in Piggy Archery and to his suprise he has a presice aim. His amazing skills made his classmates call him the Green Arrow. And he stuck with that name. Thus becoming the rouge his is now.
Pig Trades
You can trade with pigs using the materials you've collected or you can use snoutlings. And you can only do this in Pig City. You can trade them for other resources, ingredients, foodstuffs or even birdiforms! You can only do this with a Pig Costume.
Pig
Name
Trades
Minion Pig (Lumberjack)
5 Wood = 10 paper

3 Red Berries = 5 Wood
Cows
Cows replace pigs in the Milky Way. They act very much the same but slightly stronger.
Cow
Name
Ability
Scrapbook Description
Minion Cow
Those evil looking cows act very much like minion pigs, they have a bit more health, making them more stronger.
Uneasy Gang!

Those cows were the creators of the islands, and they worshipped a squid-like god. They did everything their leader, the King Cow says. They were defeated a long time ago. But Piggy used the Diamond Turtle to revive them again. They've set chaos upon the island then, it was stopped, but now they're back for revenge...

Cow Soldier
These Cows have intimidating armor, making them twice as strong as a Minion Cow. They are trained to use weapons too.
These Cows were hand-picked by one of the Cow Generals to become trained soldiers. They were trained in many forms of hand to hand combat and melee weapons. It's too bad they don't have any hands.
Elder Cow
Being more menacing and bigger than a regular Cow, he has way more health and can dodge bird hits 40% of the time. Making it harder for you to defeat him.
Uncalm Cattle!

The elders are the ravages of the cow tribe when the cows created the islands, the Elder Cows usually had to put pieces of rock together to create them, due to their immense strength. The elders are usually involved in ritual situations, such as worshipping the squid-god. Because of their immense strength, they can make Terence looks like he's useless and no one's even HERD of him!
Materials
| | | |
| --- | --- | --- |
| Material | Name | Function |
| | Glass | A weak material that can be shattered easily by all birds. The Blues are best used against it and can break it without hesitation. |
| | Wood | An average material that can be broken by most birds. Chuck is best used against wood and can just zap straight through it. |
| | Stone | A very hard material to peck through and not many birds can break through those tough cookies. Bomb and Silver are experts at bombarding stone. |
| | TNT | TNT will cause havoc all around it by exploding when a bird touches it. Useful for destroying structures around it. |
| | Pig in a Box | Once the crate is broken, the pig will break out of it. You can get extra points for both the crate and the pig. |
| | Sand | Sand is a weak material, even weaker than glass that all birds are able to break it. Appears in mostly sandy levels. |
| | Snow | Snow is similar to sand, but in appears in snowy levels. |
| | Bricks | This is stronger than stone and only very strong birds like Terence and Metalbird can destroy it. Most birds would only be able to make cracks in it. |
| (Place image here) | Coal | Coal is very flammable and can easily start fires. Birds like Blaser and Cameron can set it on flames. Other birds can break it too since it is very durable, but it is best destroyed with fire-type birds. |
| | Deadwood | It is less durable than normal wood and almost every bird can break it. It just takes two hits from the Blues to completely demolish it. Even Red's scream can shatter it. The only bird that cannot destroy it is Deadly. |
| | Platinham | Platnham is one strong ham that is quite tough to destroy, it takes four hits, and he can really roll! |
Birdiforms
| | | | |
| --- | --- | --- | --- |
| Birdiform | Name | Ability | Use on |
| | Wingman | Like Terence, but rely more on his force rather than strength, he can push stuff further than the non-hero counterpart. | Terence |
| | Racer Red (Credit to DavetheFave11 for Racer Red.) | Racer Red is faster than Red himself and can break wood easier. However, Racer Red doesn't have any abilities compared to Red's normal counterpart. | Red |
| | Blossom Stella (credit to GestroGames441 for image) | Blossom Stella makes a forcefield. That makes it immune to pig attacks and it can resist blocks a bit, but as it is vulnerable to pig structures and can run out. | Stella |
| | Buttercup Poppy (credit to GestroGames441 for image) | Buttercup Poppy fires three lasers at the nearest pig. Those lasers can get rid of blocks completely | Poppy |
| | Bubbles Luca (credit to GestroGames441 for image) | Bubbles Luca goes invisible and cannot be seen by pigs, this invisibility eventually wears off. Useful against strong pigs. | Luca |
| | Modern Computery | His modern self can shoot out 5 mini mouses to act like bullets or missiles. He can take out a quarter of a boss' health | Computery |
| | Mega Mario | Mega Mario is the form Mario takes on when he consumes a Mega Mushroom turning him giant. In this form, Mario will jump onto the pig's structures and break anything in that area, then shrink down back to Super size. | Mario |
| | Pirate Chuck (Credit to Jaikad for the picture) | Pirate Chuck is a pirate bird who loves treasure, he spills his treasure at one of the Bad Piggies. | Chuck |
| | Rain Blake (Rainbow Blake) | Rain Blake is a faster version of Blake himself. He got a Rainbow Rage Chilli stuck in his stomach and now he turns into this. Instead of teleporting, Rain Blake can duplicate himself depending on how many times you tap. The Rain Blake (the real one) while still duplicating, can teleport to tapped location. | Blake |
| | Mirai-Shade | Shade will throw an Olympic Throwing Hammer in subsitute of his punch. His hammer has a better radius since it's spinning. | Shade |
| | Knitter and her third eye | Her third eye has knitting thread and will grab any pig and slam them to the floor | Knitter |
Resources
| | | | |
| --- | --- | --- | --- |
| Picture | Name | Description | Crafting |
| | Wood | A basic wooden log. It's wooden! And it's a log! Mostly found in forests! Pretty useful! And that's all really... | It is a basic resource, so it has no crafting recipe. |
| | Stone | Plain ol' rocks that you can find commonly in rocky areas. There's many useful stuff you can do with it, for example, kicking one when you're angry. | It is a basic resource, so it has no crafting recipe. |
Ingredients
| | | | |
| --- | --- | --- | --- |
| Picture | Name | Description | Crafting |
| | Seeds | Just practical bird seeds that you can usually find in grasslands. A bird's best friend especially when their tummies may grumble! | It is a basic ingredient, so it has no crafting recipe. |
| | Red Berries | Red Berries are used for refreshing berry juices, they are found mostly in grassy levels. Birdy! | It is a basic ingredient, so it has no crafting recipe. |
| | Shiny Sand | Shiny Sand is found very commonly in beach locations and you can smelt it to make glass vials. | It is a basic ingredient, so it has no crafting recipe. |
| | Water | Water can be found from places with lots of water...Wait, how in the world is that thing floating in the air?! JUST HOW?! | It is a basic ingredient, so it has no crafting recipe. |
| | Cabbage | Cabbage is a normal crop growing in Piggy Island. This is used in many different ways like for cooking, and for weapon ammo. | It's a basic ingredient, so it does'nt have a crafting recipe. |
Foodstuffs
Foodstuff will be able to give your birds various effects before the level. They can be crafted in the kitchen.
Picture
Name
Description
Crafting

Berry Juice
Soothing and refreshing berry juice can give the birds a boost, especially on a hot day. What's better is that it's easy to craft as well!
2 Red Berries + 1 Water + 1 Vial

Charge Fruit
Nothing Like A Charge Fruit Can Give You Energy! It Can Give Your Birds A 50% Strength, Speed!, And Ability Power! An Energetic, Nutritious Charge Fruit! You Need More Ingredients To Create This Energy Fruit!
5 Red Berries,

2 Shiny Sands, 3 Seeds, 2 Water
Powerups
Picture
Name
Ability
Description

King Sling
Makes the birds fly very fast.
Slingshot of Speed

The King Sling is one of the finest slingshot models ever made, as it is made from a platinum-titanium metal alloy, a sturdy golden handle for extra stability, and an extremely comfy elastic band for your birds to relax on. Somebody mentioned that a genius invented these, no wonder whenever you sling a bird from one of these puppies, they have a golden trail of pure light and energy following them.

Angel
Turns a pig into a a nice pig, doesn't work on bosses.
Good Piggies

Angel Birdla is a mysterious bird and the "adoptive" son of Noise, one of Red's lookalikes. Despite being able to change bad piggies into good piggies, he was full of mischief when he was much, much younger, as he annoyed everyone he knew with loud noises, sneaked food into his room, and even once tortured his cousin, Firespark. Eventually, he grew out of his habits and started living up to his name, at least for now…

Pig Pumper
Inflates pigs to a big size, making them destroy everything in it's way.
(TBA)
Shocking Ability
Zaps pigs which can pass on electricity to other pigs, you can move the zapper, this lasts for 5 seconds.
Shocking Results!

This power-up looks like a lightning strike, but it is much more than just a lighting strike. It will shock all pigs that are not in a structure. This power's recipe was first created by Professor Pig when he was finding out how to create electricity, but Shade went to the King's Castle to save the eggs and on the way, he swiped the recipe, combined it with gunpowder, and loaded it in a laser gun and boom! That's the secret of the Shocking Ability...
NPCs
| | | |
| --- | --- | --- |
| | Postman Pig | Gives you daily gifts without having you watch an ad. Gifts include feathers for birds (except Gelatin and Lukie) and prizes for unlocking birds. |
| | Billy | Billy teaches you the basics of the game, you can skip it. He also appears as a cameo. |
| | Ozzie the Mechanic Pig | Ozzie is found at the end of Level 2-3. He upgrades your slingshot for some materials and snoutlings. It takes 2-3 minutes for him to do this, but after that, your slingshot is as good as new! |
| | Professor Pig | Professor Pig can be found at Pig City, he unlocks new food-items that can be eaten by birds in game to boost them. The food-items cost snoutlings or lucky coins. |
| | Cerdan Swingston | Cerdan acts as the storekeeper in the arena. Before starting, you'll need to battle him to test your arena skills, after that, he provides stamina drinks to make sure your birds can win and he can also provide a good amount of food! |
Locations
Name
Location
Number of Levels
Island
Birds Unlocked
Birdlands
Cobalt Plateaus
15
Piggy Island
Red (At the start), The Blues (Level 1-4), Chuck (Level 1-9), Bomb (Level 1-14)
Swine Vines
Bamboo Forest
15
Piggy Island
Matilda (Level 2-3), Silver (Level 2-7), Terence (Level 2-10), Hal (Level 2-15), Bubbles (Level 2-17)
South Beach
South Beach
20
Piggy Island
Stella (Level 3-5), Ruby (Level 3-15)
Pork-th Pole
Crown Mountains
20
Piggy Island
Tony (4-1) Icey (4-6) Chet (4-8) Dodo (4-15)
Pig City
Pig City
25
Piggy Island
Mintie (Level 5-4) Computery (Level 5-7)
Gold Sand Beach
Gold Sand Beach
25
Golden Island
Poppy (Level 6-1), Luca (Level 6-10), Willow (Level 6-17)
Snouth Hamerica
Unknown
25
Unknown
Blu (7-1) Nico and Pedro (7-12)
Snout Seawater Lake
Lily Lagoon
25
Golden Island
Dahlia (Level 8-10), Garretto (Level 8-18)
Fun Forest
25
Golden Island
Plum (Level 9-8), Gary (Level 9-12)
Castle Gale
Castle Gale
25
Golden Island
Sasha (Level 10-5) Gale (Level 10-25)
Magma Plains
Volcano
25
Golden Island
MFB (Level 11-2)
Mementos
Mementos
18
Mementos
Archinga (Level 12-1)
Space-Time Continuum
The Middle Of A Wormhole
30
Space-Time Continuum
Shade (Level 13-5) Volt (Level 13-28)
Colleague

Reunion

Diamond Beach
25
Diamond Island
Dane (Level 14-2) Blake (Level 14-21)

Tally (Level 14-24)

Long Lost- Friends
Diamond Beach
30
Diamond Island
Elict (Level 15-15) Spade (Level 15-18)

Crash (Level 15-21) Detray (Level 15-29)

Missing Ability Shards
Shining Forest
15
Diamond

Island

None Yet.
The Island's Underwater Temple
Under Diamond Island
15
Diamond Island
Tornadowind (Level 17-15)
Hideout Blue
Bird Village
15
Bird Island
Baby Flock (Level 18-5) Beako (Level 18-7), Lily (Level 18-15)
Palms District
Bird Village
10
Bird Island
Lago (Level 19-2) Megie (Level 19-5) Neo (Level 19-8)
No-Bird Zone
Steep Snoutains
30
Bird Island
Riba's Lair
Snout Volcano
40
Piggy Island
Mario (Level 21-18), Luigi (Level 21-30)
The Milky Way
Cow Castle
25
All Terra
Callahan (Level 22-10) Gummi (Level 22-15)
*Bonus Level*

Cardinal City

Cardinal Island
94 hidden levels in total
Cardinal Island
None. It's a bonus episode.
Objectives
Get more than X points.
Use X flock

Main Flock (Red, The Blues, Matilda, Terence, Silver, Chuck, Bomb + Extra bird (Hal, Bubbles or Stella))
Stella's Flock (Stella, Poppy, Luca, Willow, Dahlia, Gale + Extra 2 birds)
Terence's Flock (Terence, Hal, Gelatin, Lukie, Computery, Metalbird, + Red or bubbels)
Bubbles' Flock (Bubbles, Hal, Logan, Gummi, Holly, Callahan, Hallow + Red or Blues)
Chuck's Flock (Chuck, Bomb, Bourke, Karla, Damian, Junior, Anton + Extra bird)
Unique Flock (Reece, Rainbow, Cloudifer, Bounci, Piggy + Extra 3 birds)
Baby Flock (Josh, Speedsty, Grenade, Madelyn, Beako, Luca, Mintie + Extra bird)
Barry's Batch (Barry, Sasha, Volt, Lily, Presto + Extra bird)
Wind's Flock (Wind, Artic, Psy, Ray, Puffy + Extra 3 birds)
Dane's Flock (Dane, Blake, Crash, Elict, Tally, Spade + Detray And/Or Tornadowind)
User Flock (Combo, Icey, Noise, and Dave)
The Legion (Shade, Myusix, Plantus, Evangelion, Array, Lilith + Sarah, Terminus, Hello, Puyolin, or Elline)
Minigames
Egg Defender! - Defend the lost egg from attacking pigs either on foot or riding contraptions!
Reece Rally! - You have an infinite number of Reece. The slingshot will launch on its own and you need to perfectly time that tap so Reece can successfully chop that wood plank.
Cutscenes
Cutscenes are still and also appear in levels like boss levels. Upon starting level 1-4 you get your first cutscene, this is when you start to get new birds:
Red: I was looking everywhere for you boys! Where've you all gone?!
Jay: A hoard of pigs were trying to catch us!
Jim: Thanks to our braveness, we were able to clear the path!
Jake: Yeah! It was like (Doing Karate Moves) Waah, hooyah! Wachah!
Red:...What?
Jay: Okay, maybe we exaggerated the facts a bit too much, we ran behind this rock for safety. At least the dumb pigs didn't notice a thing!
Red: Don't worry, kids, at least you're with me so you should be safe. Let's go find the rest.
Again, Level 1-9 gives you another cutscene, this is when you have to free birds from cages before getting them.
Jay: Phew, that was a tedious battle!
Red: And tiring! We could use Chuck's help.
Jim: Speaking of Chuck, where is he?
Chuck: I'm here, birds! (In a cage with sleeping pigs around him)
Red: Chuck! How'd you get trapped?!
Chuck: It's a very long story, at least try to get me outa here!!!
Red: Okay Chuck, just wait...
Pig: What was that? Approaching birds?! Hogs wake up! We GOTTA GET 'EM!
After the level, this happens:
Red: And next time you mess with one of my friends, I won't go easy on you, porkers!
Pig: What a day... that's why the pigs at the Pig City warned me 'bout this...
Chuck: Now let's go! Ooh, Race y'all to the next battleground. See 'ya!
Same happens at the end of Level 1-14.
Red: Bomb! Let's get you out of here.
Chuck: Couldn't you have just EXPLODED out of the cage?!
Bomb: Why didn't I think about that?
Chuck: And you thought I was dumb...
Bomb: Did you say I'm DUMB?!
Jay: Now let's not start another war here.
Minion Pigs: Birds! Let's get them guys!
Red: This battle will never end...
The final cutscene for Birdlands appears in level 1-20. That is the boss cutscene.
Red: Guys, let's sneak quietly and see what the pigs are up to...
Red: ...Where's Chuck?
Chuck: Sorry I'm late for this, I was just making a rock costume to hide.
(Hambo sneaks up behind the birds in a bush with some other pigs) Hehehe... *snorts*
The Blues in a low whisper: What was that?
Minion Pig with Hambo: Achoo!
Bomb: Aaaaah!!! *Explodes*
Hambo: What was that for?!
Minion Pig: Sorry, I'm allergic to bushes.
Hambo: Is that even a thing?!
Red: Well you guys are in trouble. BIRDS ATTACK!
And there is a cutscene after the level for the boss.
Red: ...And this is why bad guys never win!
Hambo: This is all your fault, Snot-nosed pig! I'm telling the king about this.
Minion Pig: Yeeeeeesh...
Chuck: Yea, go back wee-wee-wee all the way home and tell King, the Fat-Tummy Pork to return our friends AND our eggs to us because we're just way too strong to confront!
Hambo: *Runs away*
The Blues: What's this?
Red: Yahoo! A map! Just what we needed.
Bomb: Eggs, here we come!
On level 2-1, there is a cutscene after you get the map.
Red: According to the map, it says that the pigs must be headed this way.
Matilda: Oh hi, Red!
Chuck: Matilda! Where've you been?
Jay: The pigs are pulling their attack of doom on us and we need your help!
Matilda: I'd be happy to h...
Vine Pig: Haha! (Snatches Matilda Away) Not so fast!
Bomb: Oh great! We have to rescue Matilda.
On level 2-3, you find Matilda with a very special juice...
Bomb: Matilda! We need your help!
Matilda: Red and the flock! Thanks for rescuing me, here's a special reward for you!
Red: Good, we need to get you out of here before a pig can hear us squawk...
Pigs: Too late birds, we heard ya!
The Blues: Wait, we can use Matilda's berry juice in the pig attack!
At the end of the level, there is also a cutscene where you unlock Ozzie.
Bomb: What a fight!
Red: Just wonderful! Our slingshot looks just as bad as a...
Ozzie: (Falls down from the sky) Aaaaaaah!!! Ow!!!
Chuck: Hey piggy, listen up! What are your plans!
Ozzie: (Getting up) ...Agh... Relax, I'm not with Riba. That porker double-crossed me...
Matilda: Oh dear, what happened?
Ozzie: Riba's been getting suspicious of my activity and friendly demeanor, so he decided to throw off the ship into the middle of this forest as punishment.
Red: So, what are the pigs up to?
Ozzie: Besides stealing your flock's eggs, the Golden Egg from the Golden Island, and stealing the fragments of something called the "Diamond Turtle"? Eh, beats me, but I do know they are planning to steal something called the "Dimensional Emerald." However, from what I've heard, is what keeps all our islands safe. Once Riba gets their hands on it, they can take control of all the islands.
(All flock gasps in fright)
Jay: We need to stop them!
Jake: To restore our islands!
Jim: So that I can finally win a game of "Bird Knights" with Jay and Jake!
(Everyone looks at Jim)
Jim: ...Or maybe not.
Red: But our slingshot is in bad shape, how will we defeat the pigs?
Ozzie: Heh, it's nothing I can't fix. Watch.
(A few moments later)
Bomb: Wow, this looks good as brand new!
Ozzie: Yep, building is my specialty after all.
Bomb: By the way, what's your name anyways?
Ozzie: Oh, it's Ozzie.
Red: Well Ozzie, would you like to join our flock?
Matilda: More the merrier!
Ozzie: Hm... I could, but I'd have to stay out of sight... Sure, why not?
Red: Let's go flock!
So at the start of Corporal Pig's fight at Level 2-20, there is a cutscene.
Chuck: Does this forest EVER end?!
Bomb: Just BE PATIENT, Chuck!
Chuck: "Patience" is not a word that appears in my dictionary!
Hal: Oh, finally, there it is!
Bubbles: Phew, it's been so long in this forest and I just want a piece of cand...
Corporal Pig: (Jumps down from a tree in an attempt to make a surprise landing but lands with a thump)
Red: What was that for?!
Corporal Pig: Let's forget that ever happened... Look birdies, if you want your eggs you'll have to show us the way to the Dimensional Emerald!
Matilda: We are never doing that!
Terence: *Groans*
Corporal Pig: You know the phrase "Either you die as a hero, or live long enough to see yourself become the villain".
Corporal Pig: So that means you have two choices, one: put up a fight with me or two: give up and show me the way to the Dimensional Emerald. Either way, I will win.
Red: I'd rather destroy you rather than letting you and your friends destroy the entirety of our islands.
Corporal Pig: Piggies! Do your thing!
Red: Show'em what you got, feathered flockers!
After the fight with Corporal Pig, then another cutscene appears.
Hal: Take that, you helmeted hog!
Corporal Pig: There will be revenge! Mark my words!
Red: Yes! Another Pig defeated, let's go flock!
Meanwhile at Pig City...
King Pig: Where is Riba?! I've been waiting for him to bring me the eggs and it is taking ages!!!
Minion Pig: Sir! Our pigs have gotten badly hurt!
King Pig: What does that have to do with me?! Where is Riba?! He promised me to bring me the eggs but it's been already a whole two minutes!
Minion Pig: This is serious King Pig! We've already had Hambo injured and we had Corporal Pig injured. What do we do?
King Pig: Don't worry, once Riba gets that Dimensional Emerald, I will be in control of Piggy Island and the Birds have nowhere to run from...
On 3-1 there's a cutscene when you first get to South Beach.
Bubbles: This is sooooo tiring, we have to walk like a few kilometers until we can get to that King's Castle.
Jay: Don't worry, Bubbles, we'll get there.
Chuck: Ooh lookie! Seashells! I'll put them in my seashell collection.
Red: Silver, this is no time to be lingering around!
Silver: Linger?! In a beach full of five hundred seashells?!
Silver: What's this? It's a glowing seashell. Just wonderful!
Hal: Watch out Chuck, behind you!
Silver: What behind me-aAaaAaaAaAah!
Silver: Oh wait, it's just a pig dressed in a silly mermaid costume.
Hal: What do you want with us?
Merpigs: We challenge you...
Merpigs: ...to a swimming competition.
Chuck: I'm in! I'm the fastest swimmer in the world!
Bomb: He said swimming competition, not a water-running competition.
Chuck: Ok then... Get them by slingshot!
Merpig: Catcha later you dumb birdies! Haha!
On the start of level 3-5, again, there's a cutscene where you unlock Stella.
Chuck: Aye... I'm getting tired and hot! I just want to take a dip in the water and have a drink of coconut. That's all I wanted!
Red: Hey look! It's a button.
(A holographic Riba pops up)
Hologram Riba: I don't think that you flocksters are not taking this seriously enough...
Hal: You don't deserve the Emerald!
Hologram Riba: Ha! Our clan has already gotten it! We only stole your eggs as a mere distraction! With lots of pigs, there is no way to stop us from extracting its power!
Red: Oh yeah, Riba?! I don't think so.
Hologram Riba: It's you and your overconfidence. Just give up already. Not even your strongest allies can stop us! Not even the almighty Eagle! Once I have that power, I gain control to the entirety of the islands! Muahahaha!
(Hologram Riba disconnected)
Stella: Pssst! Down here!
Red: Stella! What are you doing here? We were worried about you.
Stella: I bet you're looking for Riba too, right?
Bomb: Yeah!
Chuck: That big-headed baconier stole our eggs!
Stella: Listen. I have a plan.
Jay: Cool!
Stella: The time it takes for them to extract the power takes a lot of time, roughly 10 hours. If we get there on time, then we can defeat him.
Red: But how?
Stella: Hand me your map. His lair is at Bird Island. It may be quite a long time to get there, but, if we can, we could use a short-cut to go through the islands wherever the pigs are leading us. They should be heading to Riba's lair at this time.
Stella: Here's a special powerup. It's called the King Sling, it makes launches way better.
Silver: Wonderful! You're the best, Stella, now let's get outta...
Merpig 1: Hi there, losers!
Red: Just go, you know that we can already pop you with one peck.
Merpig 2: Guess we didn't really plan this out well... uh, see you next time!
Red: Birds, show them what you got!
On 3-15, there is, of course, another cutscene, this is when you unlock the minigame "Egg Defender".
Red: Oh look! It's an egg, I'd better bring it back to its parents before it hatches.
Matilda: Aww...It's so cute.
Chuck: But whose is...
Minion Pig: Guys, that birdie has an egg! Let's get that egg back to King!
Other Minion Pigs: Let's go! We're gonna have a luxury dinner tonight!
Bomb: Not today, thank you!
Hal: Yeah, you guys are dreaming, the egg is ours.
Red: Let's defend this egg!
You get the final cutscene for South Beach on level 3-20, this is the boss.
Red: Come on guys, let's keep going.
Jay: I mean Red, is there a Milkshake stop nearby?
Red: I mean we could use some berry juice... Hey, piggy! What do you want?
Merpig: Uhm...Nothing!
Chuck: THENJUSTRUNNAWAYBEFOREIHAVETOGETRIDOFYOUMYSELF!
Merpig: (Wails and runs in fear)
Bomb: Uhh...guys?
(All birds scream in fear)
Merpig 1: There they are!
Merpig 2: Meet our King, the Hogtopus.
Bomb: ...Oh no...
Hogtopus: The King was just talking 'bout you puny creatures. You guys think you're smart, eh? Hahaha, such chickens.
Matilda: Hey! You don't call us that!
Jim: But Matilda, aren't you a chicken?
Matilda: Nevermind about that.
Hogtopus: Now this will teach you something! (Grabs Bomb with his tentacle and throws it against a coconut tree, making him explode)
Silver: Bomb! Are you alright?
Bomb: I'm alright. But this pig won't be! Guys, tackle him!
At the end of the level, there is a cutscene.
Bomb: I'm pretty sure you've learned a very important lesson today, don't hit the bomb bird against a coconut tree.
Hogtopus: You...you pests!
Silver: Nyeh, nyeh, nyeh.
Red: Silver, let's go already!
When you meet Tony on level 4-1 there's a cutscene.
Everyone: WOW, AMAZING, MESMERIZING, LOVELY!
Stella: What is this feeling.
Hal: Huh? What do you mean?
Stella: This true feeling of love, friendship, and kindness, this feeling that bursts out like a blazing trail beyond the image that it could never stop. Falling down miraculously like snow precipitating. The melody of the heart. WHAT SHOULD WE CALL IT?
Silver: It's Snow Halation and why did the creator came up with this script?
The setting was changed to Rovio Entertainment OYJ HQ
Combo: Don't ask me, ask him.
Omega: IDK
Combo: (Puts up technical difficulty sign)
The setting reverts back to Pork-th Pole
Bubbles: Look, there's Tony's homestead.
Red: (KNOCK KNOCK)
Tony: Hei? (Hello in Finnish)
Tony: Oh!
Tony: Hei.
Tony: Terence?
Tony proceeds to hug Terence.
Hal: That's kinda cute. Ok, let's start the level, shall we?
Icey from cage: help me!!!!!
At the ending of level where you unlock icey their will be a cutscene
combo: no worry icey! me and omega will save you (grabs key)
icey: YAY!! I'M OUT!!!
red: welcome to the team icey!
silver: (sees icey) :D
icey: (hugs silver)
tony: so what do we do now
icey: yeah what do we do red?
stella: (sees an ice block) umm guys were trapped...
Terence: me and Bomb will break it!
(the ice turns into gold)
Terence: owwww my head!
Ice Hockey Pig: your trapped!
icey: lets see...
red: Lets do this!
Scene Where You Unlock Dane Tally And Blake
Red: Where Are We Now?
Chuck: Were In An Island That WASNT Mentioned In The Map.
(Hears Dane Screaming)
Jim: I'm Scared! :(
Jay: Don't Be Such A Baby Jim!
Jim: WHAT!? I'm No Baby!
Bomb:This Is No Time To Be Fighting You Two!
???:darn those pigs, who knows what'll happen to the gem!
??: I don't know
???: Well? Blake You Can Teleport Us Outta Here Right!?
Blake: Oh Yeah I Forgot!
Chuck: Who's Blake?
Jake: Well Lets Go Check It Out!
Dane: Finally! Now Lets Go-
Bomb: Who Are You?
Chuck: Wait I Remember Them! Where's Elict?
Dane: Well Unfortunately He's Taken By The Pigs.
Red: Its Been So Long!
Dane: Red?
Tally: Well This Is Such A Surprise. We Didn't Expect A Reunion
Red: What Happened? Where's The Gem!?
Dane: Unfortunately While Blake Here Was Watching The Gem The Pigs Attacked Us..
Chuck: OH NO IF THEY SHATTER IT, WERE POWERLESS!
Blake: You're Certainly Right About That.
Minion Pigs: You'll Never Get Through Us! And You Can Never Save The Gem!
Red: Flock! Show Em What You Got!
Scene Where You Defeat The Minion Pigs
Dane: I'll Finish Them Off!
Red: Guys! Cover Your Ears!
(MAKES A LOUD YELL)
Minion Pig 1: I Can't Hear Anything!!
Minion Pig 2: What!? I Cant Hear You!!!
Blake: (Teleports Them Off A Cliff) Buh-Bye
All The Blues: WHOA THAT WAS AMAZING!!!!!
Jay: That Sure Was The Loudest Yell.
Red: Anyway's Lets Go!
???: hehehe you'll never find em easily..
Scene Where You Unlock Elict.
Chuck: Ugh This Is Tiring When Is This Going To END!?
Jake: Yeah It Feels Like We've Been Walking For 5 Years..
Tally: Don't Be Such Lazy Bones Guys!
Dane: To Be Honest This Is Kinda Tiring
Bubbles: All I want is one piece of ca-
Piggies Laughing And Cage Teetering
Elict: LET ME OUT!!
Pig 1: Never Birdie!!
Elict Zaps Pig 1
Elict: Call Me Birdie Again And Your Bacon To Me!!
Pig 2: Wait Aren't You A Bird?
Elict: Ugh Never Mind 'bout That Now!
Pig 3: Guys A Flock Of Birds Are Coming!
Pig 1: Hide The Cage!
Red: ugh more fights!?
Pig 1: PREPARE TO TASTE FURY OF BACON!
Dane: THIS IS ANGRY BIRDS NOT ANGRY PIGS!
Pig 1: Never Mind About That!!! GET EM
After Defeat Of The Angry Bacon
Pig 1: we'll w'ell never give up neve- Faints
Elict: LEMME OUT OF HERE!!!!!
Chuck: Elict?
Elict: Chuck
Matilda: Nice To Meet You Elict.
Bomb: Never Saw This Coming..
Archinga: (Plays "Last Surprise" on a boombox)
Elict: Detray And Spade Are Still Out There.. And The Gem Is Almost Taken To King Pig... Once It's Shattered We Have No Abilities Against Them..
Red: Well What Are You Waiting For!? Welcome To The Flock!
Spade: Help Me!!!
Store
You can buy birds that aren't unlocked yet for gems or real life money. Some seasonal birds get discounts. Such seasonal birds are:
Matt (Valentines)
Mallard (St. Patrick's Day)
firespark (4th of july)
Blaser (Halloween)
Icebomb (Christmas, Winter in our Summer)
Tony (Christmas, Winter in our Summer)
Leveling Up
Leveling up is a way of improving your birds' status. You do so by collecting feathers from treasure chests that appear on various levels. Leveling up can improve ability damage, arena health/damage and speed and resistance. When you've leveled your bird at a certain level, it will be at Mastery level. You can only upgrade knockback, arena status and recharge to prevent over-buffing the birds.
Arena Mode
Arena mode makes it able to battle players in real life. You can unlock Arena Mode after beating level 10 Pig City. First of all, pick a team leader. You need to have enough stamina to fight. You have to try to get score by beating endless levels til' time runs out. Once done, your team leaders will fight each other until one is defeated. More score means more attacks, extra attacks come in while the team leader is used.
Starting Off
To start off; Billy will teach you the basics of Arena Fighting, if you already know, you can skip this. You will first of all, fight with an example player, and that example player is Cerdan. After defeating him, you will unlock the arena store.
Arena Store
Cerdan provides items such as stamina drinks and foodstuffs. Stamina drinks will help you to get more stamina. Remember that these items will cost snoutlings. Some even cost lucky coins or real life money.
Scene
Cerdan: Welcome, to The Arena!
Red: Whoa! This is amazing!
Chuck: I agree, Red.
Matilda: Let's fight!
Reece: We can! I know we will.
Callahan: Sweet!
Chet: Let's battle!
Volt: This is amaz-(BZZZT!)-ing!
Jake: Alright.
Jay: Yes we can!
Jim: Okay.
Red: Alright guys, let's go!
MakerSpace Mode
メーカスペース (Mēkasupēsu) (The Japanese name for construction mode) is a fun mode that can be unlocked at level 9-15. You can make structures with the blues using toys! Not just any toys, but magic toys that come to life. Make your own piggy contraptions with the Blues and share them online with your friends and challenge their flock. Unlock more toys as you go and add bosses to your level to make the game harder...
The toys use the same sprites as their normal counterparts. Give the toy an item to change it's attribute.
Pigs can be stacked up to make a Pig Tower.
Night Mode
Only exclusive to MakerSpace Mode, Night Mode unlocks exclusive features, like:
In Swine Vines, Waters become poisonous.
In Pig City, Pigs are asleep, you wake them up by hitting them, to pop them, just hit them again.
Any Geishas turn into Gatekeeper Robots.
Events
Like Angry Birds Epic, there is an event portal that you must go to in order to participate in the event.
The Ultimate Space Race
The Ultimate Race to Space is an event on March 22nd, celebrating the anniversary of Angry Birds Space. Hekto Porko and King Pig stole the golden eggsteroid and you have to compete with other players to find it. You get to battle with others in real time by popping the most pigs. There is a timer so you must try to be quick about it. There are atmospheres that surround planets and there is zero gravity. In the end of the event, the one who pops the most pigs will be given the golden eggsteroid as a reward that gives you a bunch of lucky coins.
Winter in our Summer
Winter in our Summer is an event that takes place in the release of Angry Birds Movie 2. It includes most winter birds as event birds. The main villain here is Zeta. Your objective is to find Zeta, most of the places in Bird Island are already frozen and you have to get to Zeta's Hidden Castle.
Quest to find Knitter
It's an event based off of the 2020 game,
Angry Birds: Out of Darkness
. You'll go through places in
All Terra
. You'll encounter both Pigs and Cows. The eight levels were carefully hand-picked by Rovio themselves. Fans all over Japan could submit their levels in MakerSpace mode with #Knitter in the name of the level. In the end, when you finish level 8 of the event, a cutscene plays. And when Shade opens the door to Knitter's cottage, the game trolls you by playing an ad after Shade opens the door!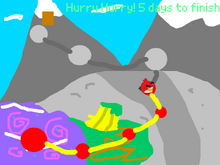 The spooky Zone!
This is a Halloween event putting in more lore about AB:OOD. Holly has gone insane and will do anything for Callahan, that she's corrupted with hate. So she makes several Terrollies so she could attempt to rebirth Callahan, like she's evil. In the event, go through 20 fun filled, Halloween-ish levels. To get to Holly's hideout. So you could fight her tank.
2020 Olympic Bash!
This is an event that takes place during the 2020 Olympics. But this is more on completing goals than going through levels. You'll get 9 quests every day of the Olympics from Miraitowa and Someity respectively. When you complete every quest for the next 14 days the 2 reward you with Mirai-Shade, a exclusive Birdiform for Shade in the Japanese version and only the Japanese version.
Save Jamaa!
Save Jamaa! is an event as a collaboration of Rovio and WildWorks. It takes place in Jamaa. The pigs and phantoms are causing trouble again as they take over the city of Jamaa and trap all of the animals. The birds start to get very angry over this and to save the animals of Jamaa, you'll have to venture through Jamaa to stop the pigs and phantoms and restore peace in the city
Event Enemies
Event Enemies are enemies that usually only appear or have their debut during an event.
Image

Name

Ability
Scrapbook Description

Terrolly
Similar to Minion Pigs, Terrollies are

the fodder that Holly uses to defend herself. Terrollies can move around, usually left to right.

Terrifying.

Terrolly is an incarnation of Callahan. He is sometimes confused as a female, but he is male. Terrolly is very scared of the flocks, although when he has the upper hand he is more intimidating.
Fusion Machine
The fusion machine can be unlocked at 10-25. It references Angry Birds Fusions. Using the fusion machine, you can take two cards in at least above level 7, and combine them for a cost of snoutlings Here's a list of fusions you can make:
 

| | | | |
| --- | --- | --- | --- |
| Bird | Name | Ability | Scrapbook Description |
| | Rack (credit to GestroGames441 for image) | Rack is furious and speedy, he'll make a big ca-caw on the first tap, and speed up on the second. He's good with wood. | Sonic Sound! |
| | Lukith | Lukith will drop sugar cubes that pigs will eat but when they eat it, they'll automatically pop. | Your Costume For Halloween! |
Boss Rush
In Boss Rush, you can defeat every boss in one land. If you defeat every boss, you get The Golden Egg.
Mid-Bosses
Pig
Name
Ability
Description
Location
El Porkador
Stage 1: He rolls around the stage, and throws pigs at your birds. His big lumps of fat has a possibility of knocking your birds back! Watch out!

Stage 2: He will now bounce around the stage, making it harder for a bird to hit him, this also causes a shockwave that will blow the birds away!

Fighter for Ham!

El porkador is wingman's arch nemesis, and he really hates him! So not only did he just want to fight Terence but also the whole flock! (By the way, he is just Big Bork in disguise)

Birdlands
Robo-tilda
Stage 1: She will shoot fireballs out of her beak at the bird its aimed for. She may be a bit rusty, but she has a chance of absorbing 25-50% damage dealt.

Stage 2: She will take a random part of the structure and she will throw it,

Robotic Trouble!

Robo-tilda is a robot version of matilda some birds got confused, when they saw robo-tilda, but Matilda knew about this. The project was invented as a way to distract the birds and get the birds' eggs, while the pigs capture Matilda as they try to make sure

Pig City
hogzilla
stage 1: he will smash around stomping and making earthquakes stage 2: he will roar and make a bunch of stuff fall down
Ham from the deep! hogzilla is from the deeps of the ocean where Atlantis is! he is really th only person but when he saw the birds attacking went and wanted to start fighting!
Gold Sand Beach
Evil Shadow
Stage 1: He Throws Blocks On The Aimed Bird

Stage 2: He Throws Super Fast Bullets At Shot birds

Shadows Of The Echo???
Diamond Beach
gabi
stage 1: she sends marmosets

the birds to defeat stage 2: she hops around the stage

Poisonous or tree frog?

in rio 2 it was said untill the end of the movie that she is not a pig she is actully a tree frog

rio
Blackon
WIP
WIP
WIP
Mighty Characters
Mighty Character
Name
Ability

Mighty Eagle
Summoned by a sardine can. Mighty swoops in to defeat all the pigs in the level, destroying most of the blocks in the process.
Deadly
Summoned by a swordfish. Deadly booms in from the sky and crushes everything to pieces while getting his lunch. Deadly is much more bigger and deadlier (Get it? No? Nevermind.)

than the Mighty Eagle and he is harder to get.
Bosses
Pig
Name
Ability
Description
Location

Holly's Tank Mark I
Stage 1: Holly causes the ground to rise up and down, and rides around in her tank. The Tank randomly fires melons in the air to stop birds from getting to her. Once she takes three hits to the head, stage 2 begins.
Heavy Hitter!

(Event Only) Holly's Tank is a tank that allows the user to destroy just about anything! Just one thing though. It is slow.

The spooky Zone! (Event)

Holly's Tank Mark II

Stage 2: Holly brings out an even larger tank and continues to move around, this time without the floor moving. She summons Terrollies to defend her. She also sends rocks in bubbles up in the air in an attempt to block you. Use the rocks to hit Holly three times and the battle is over.

Terrifying Technical Tank!

(Event Only)This monster of a vehicle is pretty and tall, at least to Holly anyway. She built it by hand, you know. Anyway, this bad boy is stronger than the Mark I, but still just as slow. Those Terrollies are scary though.

The spooky Zone! (Event)
Hambo
Because this is the first boss, it only has two stages and it is considered a miniboss.

Stage 1: Has a 50% chance to dodge bird attacks by rolling. And is also strong to punch after three turns.

Stage 2: Recruits more allies, and drains bird health to heal himself.

Undisputed Army Ham!

Hambo is a determined hog who would do anything to impress his leader, Corporal Pig. Unless he was misguided to accidentally bring back an egg-shaped stone.

Birdlands
Corporal Pig

Stage 1: Everything that lands on his helmet. (Egg Bombs, Poppy, Tony) Will do 50% less damage. Hits a bird with his stick evert three rounds.

Stage 2: Recruits more allies(Helmet Soldiers mostly), and drains bird health to heal his allies.

Stage 3: Makes all pigs stronger and attack every 3 turns. Has a 75% chance to knock out birds that land on his helmet.

Just a Pig in General...

A slight amount of dumbness, yelling always in the pigs' faces, thick as two rashers of bacon, that's Corporal Pig. The leader of the pig army can always be counted on...to get things wrong.

Swine Vines
Hogtopus

Stage 1: Holds any bird with his octopus arm and throws it at the next bird launched. Happens 50% of the time. Summons in Merpigs.

Stage 2: Recruits more allies(Merpigs, Pirates and Merpigs with Tridents mostly), And can hold more than one bird.

Stage 3: Changes the weather to thunder and can now summon water currents that damage birds that are underwater.

Egght Tentacles!

Hogtopus is a deep sea monster that has a love for eating eggs. Even the mere sight of an egg and he would grab it as fast as he can with his tentacles. Hogtopus has a talent of juggling things, even with whatever he has; mere stones, birds or sometimes merpigs. He is also the boss of Pig Sea and can be found in his cave whenever the Merpigs need to call him in.

South Beach
(Place image here)
Big Boy Boar and his Tribe

Stage 1: Smashes a bird that comes after him with his staff after 2 turns. Summons in Boars.

Stage 2: Swings his staff instead of throwing it after 3 turns to kill birds from many sides. He also has a 20% chance to use his tusks to push away stinging birds.

Stage 3: Changes the weather to blizzard and can now heal boars every 4 turns and recover any that died the last 4 turns.

Ice Ice Piggy!

Big Boy Boar is a hog that ain't lettin anybird pass his territory. He has gathered all his boar tribes to help out King Pig so that they can keep his forbidden ice treasure. Big Boar Boy also has the magical powers of ice using a special staff...

Pork-th Pole
Chef Pig

Stage 1: Slaps birds that come near him with a saucepan and also summons assistant chef pigs to help him.

Stage 2: He will now lob cakes to damage your birds and then will try to hurt your birds with fire using his saucepan.

Stage 3: Uses a pig plot potion on birds that come near and can summon more assistant chef pigs.

Pop the Cook!

Chef Pig is the Pig City's caterer and chef. He cooks for posh swine and the King with whatever he can find, mainly grass, however, the King has very high expectations and he wants to eat the flock's eggs very badly. Chef Pig gets so fed-up that he secretly wants to take over King Pig's place and rule the city with an iron spatula.

Pig City
Foreman Pig

Stage 1: Lobs three dynamites at birds every 2 turns and also summons minion pig troops of different kinds, like Construction Pigs, Catapult Pigs, and Ropigs.

Stage 2: Rebuilds any weakspot of the structure after 4 turns with stronger materials. And also fires TNT instead of dynamites.

Stage 3: Hops in to machinery and will launch way more tnt around him and now will launch pigs too.

Bossy Foreman!

Foreman Pig is the bossiest hog in the herd with a rule-book as big as his 'tache. Don't ask questions, just do as he grunts.He loves handing out orders, as far as it's his way or no way. The foreman hates shoddy workmanship which is funny as most of his porky contraptions fail almost completely. Of course, he never takes the blame, if one of his gizmos go haywire, it isn't his fault that he designed it badly, but it was the porker's fault that he doesn't follow the instructions.

Pig City
King Pig

Stage 1: Every 3 turns, he will use balloons to fly up, and stomp the bird who tries to attack him and summons in 5 random types of pigs. Also, he has a 75% chance to make birds bounce off him, so you must hit him from the top.

Stage 2: King Pig will now vaccum in any nearby bird every 5 turns and shoot them out to other birds on the next turn. And he will also try to throw bombs at nearby birds

Stage 3: Now flies on his balloon at all times and now summons in way more pigs and heals them. Making him almost impossible to kill at this stage.

Royal Fool!

King Pig is the greedy and slobby king of the Pig City. He demands the flock's eggs and he demands them now! King Pig is one of those slobs of Pig King History, he hates exercise, King Pig is behind in the line of royal slobs, that he can't even be bothered to walk and his long-suffering minions have to carry him on the shoulders. If he doesn't get what he wants, the silly sausage flies into a temper tantrum. Especially the flock's eggs, funny enough, he hasn't tasted a single egg, and his egg stash is completely empty.

Pig City

Captain Goldsnout

Stage 1: Every 3 turns, he will knock out birds with gunshots and summons in matey pigs too. He drops snoutlings when damaged.

Stage 2: At this stage, Captain Goldsnout will now heal pigs with golden nuggets and he will use a cannon to damage your birds.

Stage 3: Can now summon in ghosts pigs that will try to haunt you and now he heals and increases attack damage of pigs.

Gold-lover!

Captain Goldsnout is a greedy pig. He uses his pirates to help him in attempt of finding treasure. Goldsnout haves it all for himself and always forces his mates to "wash the deck". Every time a bird comes, he always calls in his mates to chase them away, so he isn't so good on the "social side" of things. His only friend is basically just treasure and he will do everything to get it!

Gold Sand Beach

Nigel
Stage 1: Nigel fly's runs around his stage and stands on some cages Stage 2: he might throw some birds
(coming soon)
Rio

The Trio
Stage 1: Iggy comes in with his ship, he will throw random things (wood, other pigs that he summon) He summons minion pigs and ropigs. He has a 20% chance to trip and fall, making him vulnerable.

Stage 2: Iggy's ship sinks and Piggy comes in with his ship, he throws explosive potions (that make birds explode), weak potions (that weaken birds' abilities). He summons in acidic pigs, zombie pigs and rarely even brutes. He heals pigs with potions too.

Stage 3: And another one crumbles to dust. Next in the line is Zach, he will spawn in soldier pigs, bombshell pigs, angry pigs and catapult pigs. He fires two cannons at the birds and he throws TNT at strong birds. This is the hardest phase.

Triple Pig Danger!

The Trio are an elite pig squad that like to ride ships, Iggy is the first of the three, he lacks intelligence hence the plaster and he can't even count from one to ten! He probably hit his head hence the plaster. Piggy is the opposite, he's the smartest of them and he speaks science in everything, he knows a lot of chemistry too. And the last of them all is Zach, he has average knowledge and he knows how to handle birds at all times! With them all, these three are an unstoppable trio...well, maybe.

Lily Lagoon
Nili

Stage 1: Jumps around and will be quick on her feet as she will try dodge any bird that tries to aim for her, use a bird that can shoot projectiles.

Stage 2: Nili will now summon in Soldier Pigs and Ropigs and heals them. After three turns, she will provide a health forcefield for a random pig so that when the pig is provoked, he will regain health instead of lose it.

Stage 3: Nili now can jump higher and she will even summon in Wildfire Pigs. She can even bonk a bird to deal damage.

Tactical Fighter!

Nili is a smart, loyal, quick thinkin' and hotheaded pig of a kind. She's a strong warrior, not a weak worrier. She is the second commander of Riba's clan, and she has a Crush on Riba, which she wants to keep a secret. She can be ruthless and she wants to try and become a better person. She's that kind of martial artist that won't even try to back away!

Fun Forest
Riba
Phase 1: Riba jumps and swings his lightsaber to slice incoming birds. He can swing in any direction

Phase 2: His lightsaber changes color depending on his elemental power (it's orange when he has fire powers) and shoots sword beams and energy balls at the birds

Out for Revenge!

Riba was once a friendly free-spirit pig who was friends with Reece but then, by the piggy law, Riba switched sides and turned against Reece. King Pig was using Riba as a tool. Now he needs to put matter in his own hands.

Riba's Lair

The Cow Lord
(Combo You Can Add Ability I Got Nothing..)
Milky Situation!!(Coming Soon)
Milky Way

Omega Riba
Stage 1: Tries to shower bubbles of lava on random spots.

Stage 2: Jumps everywhere, causing a fire shockwave. He will now also create random portals from different worlds, summoning different types of pigs.

Stage 3: Turns Cobalt Plateaus into a hellish world and he will now use walls of fire that you have to try to avoid.

Stage 4: Shoots beams of fire that will deplete your birds' health and swings his lightsaber, while dashing around.

Stage 5: Uses all the attacks from before, making him almost unstoppable.

Cause to Corrupt!

As Riba drunk a magic potion to gain maximum power against those birds, Riba stole the souls of the Unique Flock. Omega Riba is a manifestation of Riba's own personality. Who knows if it's true power awakens again! Birds, keep on fighting!

Return to the Plateaus
Planned Birds
Suggest your birds/pigs here
NOTE: These suggestions are only intended for the special version, for the main version go here.
Yes, you can put in your birds pigs here! The rules are here:
No joke birds/pigs
At least give it some personality
Quality must be average for a fanon bird.
Put a link to the article
I'm very busy working on this article, so please only fill out the bullet points listed (three for each pig and bird suggestions.)
Be fair to others so that they can suggest too. Don't suggest too many birds at a time.
Suggestions Here!
Bird Suggestions
Pig Suggestions
I'm still working here, if you want to talk to me, you can go to my talk wall.
Spoilerworthy information

Spoiler warning!
This article contains spoilers for Angry Birds Ultimate: Special.

`
Cutscene after Riba Soul boss fight
Riba: (weakly) Where am I?
Riba: (Weakly) ...Reece?
Reece: Welcome back... old friend.
(All birds cheer)
Garretto: Uhh.... guys, we have a problem.
Gummi: And what, exactly is that problem?
Volt: The ceiling is shaking!
Jay: We might want to run.
(Someone comes down from the ceiling and magnets the Dimensional Emerald)
Red: Who are you?
King Cow: It is I, the Cow King, and I've come for my revenge!
Callahan: Oh wait, now I know you, it's you who sent in all those cows, they literally defeated me, BUT I revived! Now what do you want to do?!
Riba: You again! You take it one step further and you'll see what happens!
King Cow: Riba, for many years we've been battling over control of the Emerald, and now that I have it, I can manipulate the whole universe! Hahahaha!
Reece: You know him Riba?
Riba: Well, yes, my great ancestor wanted the dimensional emerald from the very start, rivaling against the Cow King, fast forward to today, the king ordered us to get the dimensional emerald for him, well, mainly for the eggs, so we went all the way to the hidden islands and stole it.
Reece: But why, Riba?
Riba: I tried to tell the King but he wouldn't listen...
King Cow: Yes, now it will be I who wins!
Riba: We must get him!
Bounci: How?
Blake: Yeah, Bounci's right? How?
Riba: We work together to find him. Teamwork is always crucial, you know.
Reece: Riba is right! We must do this! For our islands, and for all birdkind and pigkind!
Riba: So who's with me and Reece?
(All birds cheer "me!")
Music
| Music | What it sounds like | Location |
| --- | --- | --- |
| Dawn of the Swine | Super Mario's Airship theme combined with the Angry Birds main theme. | Map (Main Theme) |
| Evergreen Trees | Angry Birds Stella's Branch Out theme combined with the Angry Birds Epic level selection theme. | Birdlands |
| The Boss Within You | A remix of Angry Birds Star Wars II's final level theme and Angry Birds Epic's Boss theme | Any Boss Level |
| Bamboo'd Birds | | Swine Vines |
| Merpiggy Middle Seas | | |
| Beyond the Snowfall | A remix of The Snowfall, the Christmas song Rovio used for Christmas of 2016. | Pork-th Pole |
| Void of Riba | Astral Birth Void theme combined with The Bad Piggies Theme | Riba boss fight |
| Pig Pressure | PIggy Dilly Circus mixed with Pressure by Queen | Riba boss fight |
| Egg Protection | A parody of Life will Change | Ending theme |
| Snowfall Halation | One of those Snow Halation rips that Silvagunner posts on his Youtube channel. (This is unused at the moment) | Pork-th Pole |
| The Angry Birds 2 Medley | A medley of all of the soundtrack of Angry Birds 2, with a hint of The Final Flocketier. And it's reorchestrated | Credits theme |
| (Canceled by Combo) | (Canceled by Combo) | (Canceled by Combo) |
Producers
Producers are users that help with ABU, they can:
Help make art
Edit without permission
Add without suggesting
Producer Rules
PLEASE, PLEASE, PLEASE READ THE RULES BEFORE EDITING, OR ELSE I SHALL REMOVE YOU FROM THE PRODUCERS TEAM, THANK YOU VERY MUCH. - Combo
Make sure that what is added is sensible.
Don't vandalize the article.
Make bird art from scratch, and make sure it's good quality.(Unless you want to let me make it)
Do not disorganize the page too much.
Add information that's only Angry Birds Related.
If I(Combo) say that the picture(of a bird, pig, e.t.c.) is going to be added, then let me add it, please.
Do not act like you're the boss of everything in the article, I'm the owner.
Do not create any more crossovers. The crossover amount is going bananas now.
NO ANIME MATERIAL WHATSOEVER!!! (Obviously, this is the japanese edition so maybe a bit will be fine, but nothing crazy because this isn't a Lovelive and Angry Birds Crossover.)
Do not delete any of these rules!
Do not add anything extra without my permission.
I'm being stricter on the rules this time, so if you don't follow the rules, I might have to remove you from being a producer. The rules apply to all versions of ABU (This one, the International Version and the World of Light)
Team of Producers
Trivia and Easter Eggs
Like Angry Birds Heights, This game uses SI prefix symbols.
If you look closely in the pig city, you can see a milkshack, with a pig outside of it.
Piggy-llusionist is a combination of the words "Piggy" and "Illusionist"

He is based on Minecraft's unused mob, the Illusionier. Due to the fact that he can copy himself.

Blossom Stella, Buttercup Poppy and Bubbles Luca are in a flock named the "Powerpuff Birds" and this is an obvious reference to Cartoon Network's "Powerpuff Girls".
if you look though the game files their will be a barking noise and sprites of luiz from rio because he was originally going to be in the game
gabi the mid boss is the only charater in the game that is not a bird nor pig
Diamond Island Is Named After DanTDM's (Famous Youtuber) Island In The Game (Tomadachi Life)
The name: MakerSpace is a reference to the animated series: Angry Birds MakerSpace
Omega, Ben and Combo make cameos but they're not playable ingame
In a later update, Combo is playable ingame and must be unlocked. Note: The unlocking method can only be accessed on April Fools Day.
The Angry Geisha had a different ability in the beta version of the game, instead of fanning very hardly, she grabs the bird and pops it. This feature was removed from just being just violent.
Cyber is the only class to be classified as basic and advanced
This may be the Final Angry Birds game.
Combo Unlocking Manual!
1. Make sure that Mario and Luigi are at least level 7 or higher.
2. Three star all levels on South Beach.
3. On Porkth Pole, start Level 4-1.
4. When the cutscene turns to Rovio HQ, click on Combo's nose.
5. You've unlocked Combo! The game doesn't tell you so but you can go to your character selection to check this.
Community content is available under
CC-BY-SA
unless otherwise noted.