Construction
This article is under construction. You can help by expanding it but please do not delete this article or mark it as a stub.
---
Angry Birds in the United States is a game by Rovio Entertainment USA. It was made to celebrate the 4th of July. The Birds keep their AB2 sprites.
Plot
A beautiful morning at King Pig's castle. Postman Pig delivers King Pig a letter, a Minion Pig then collects not only the letter, but everything in the King's mailbox. He gives all the mail to King Pig, stating that one of them just arrived. He grabs a letter (the wrong letter). That letter was written by a pig who lives in the United States of America, stating he has a machine that can steal eggs in his house. King Pig then proceeds to find his passport to travel to America and find the pig. The Flock find out and go after him.
Characters
Birds
Image
Name
Red
Ability
Shoot anger waves less powerful than the ones from AB2.
Description
First appearance
Statistics
One angry bird. Don't mess with him.
Los Angerles, Caliboarnia 1-1
Normal Damage
10
Ability Damage
2
Works best on
Wood
Image
Name
The Blues
Ability
Split into three birds.
Description
First appearance
Statistics
The best things always come in threes
Los Angerles, Caliboarnia 1-6
Normal Damage
5
Ability Damage
6
Works best on
Glass
Image
Name
Bomb
Ability
Explode.
Description
First appearance
Statistics
Is he a bird or a bomb? Maybe he's a smoke cloud.
Los Angerles, Caliboarnia 1-14
Normal Damage
13
Ability Damage
30
Works best on
Stone
Image
Name
Chuck
Ability
Speed up.
Description
First appearance
Statistics
Speedy and speedy win the race for this guy.
Sacranento, Caliboarnia 2-4
Normal Damage
10
Ability Damage
20
Works best on
Wood
Image
Name
Matilda
Ability
Lays and explosive egg that propels her upwards.
Description
First appearance
Statistics
A peaceful bird of destruction.
Yoshimite Falls National Pork, Caliboarnia 3-7
Normal Damage
12
Ability Damage
25 (egg) 18 (the bird herself)
Works best on
Wood/Stone
Pigs
Image
Name
Minion Pig
Ability
None
Description
First appearance
Statistics
Foolish green pigs who do
nothing with their lives.
Los Angerles, Caliboarnia 1-1
Health
5 (small)
9 (medium)
13 (large)

Ability Damage
0
Weakness
All birds
Episodes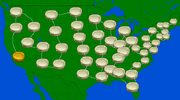 Image
Name
Caliboarnia
Episode Number
1
Based on
California
Theme 1
Theme 2
Theme 3
Los Angerles
Sacranento
Yoshimite Falls National Pork

Based on

Los Angeles
Sacramento
Yosemite Falls National Park

New Features and Gimmicks

Camera Blacks can stun you birds
Gold Pigs and blocks
Lumberjack Pigs that can summon wood. Water physics.
Image
Name
Oreggon
Episode Number
2
Based on
Oregon
Theme 1
Theme 2
Theme 3
Porkland
Cranter Lake
Sountalem

Based on

Portland
Crater Lake
Salem

New Features and Gimmicks

Tents that spawn minion pigs.
Water physics, FishPigs, Beaver Pigs, Bear Pigs
Ferris wheels.
Image
Name
Washwington
Episode Number
3
Based on
Washwington
Theme 1
Theme 2
Theme 3
Snortkane
Mt. Crainier
Swineattle

Based on

Spokane
Mt. Rainier
Seattle

New Features and Gimmicks

Desert themed Pigs
Wind, Snow
Unbreakable needle buildings.
Image
Name
Idahog
Episode Number
4
Based on
Idaho
Theme 1
Theme 2
Theme 3
Snortshone Falls
Oinkse
Hells Hamyon

Based on

Shoshone Falls
Boise
Hells Canyon

New Features and Gimmicks

Water beams, Potato Pigs
N/A
Potato farmer pig.
Image
Name
Neggvada
Episode Number
5
Based on
Nevada
Theme 1
Theme 2
Theme 3
Snoutains of Bellagio
Feather Valley
Las Veggas

Based on

Fountains of Bellagio
Death Valley
Las Vegas

New Features and Gimmicks

Water beams
The ground is so hot, it can incinerate your birds.
Gambler Pig, Tourist Pig
Image
Name
Brutah
Episode Number
6
Based on
Utah
Theme 1
Theme 2
Theme 3
Arches National Pork
Great Snort Lake
Snort Lake City

Based on

Arches National Park
Great Salt Lake
Salt Lake City

New Features and Gimmicks

Tough arches
Water physics
Snow
Image
Name
Avizona
Episode Number
7
Based on
Arizona
Theme 1
Theme 2
Theme 3
Montezuma Castle
Phoenix
Grand Hamyon

Based on

Montezuma Castle
Phoenix
Grand Canyon

New Features and Gimmicks

Guard Pigs
Cacti that poof your birds when hit.
Cliffs
Image
Name
New Meggsico
Episode Number
8
Based on
New Mexico
Theme 1
Theme 2
Theme 3
Halbuquerque
White Bird Sands
Roswinell

Based on

Albuquerque
White Sands
Roswell

New Features and Gimmicks

More desert themed Pigs
White sand blocks
UFOs
Image
Name
Coloredo
Episode Number
9
Based on
Colorado
Theme 1
Theme 2
Theme 3
Great Ham Dunes
Snout Elbert
Denbird

Based on

Great Sand Dunes
Mount Elbert
Denver

New Features and Gimmicks

N/A
N/A
N/A
Image
Name
Wyowing
Episode Number
10
Based on
Wyoming
Theme 1
Theme 2
Theme 3
Yellowsnout Pork
Old Featherful
Chuckyenne

Based on

Yellowstone Park
Old Faithful
Cheyenne

New Features and Gimmicks

Geysers
N/A
N/A