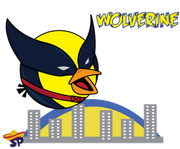 Angry Heroes: Marvel is the fourth installment of the Angry Heroes series.
Birds
Black Panther- Slashes with its claws.
Wolverine- Attacks with his claws with great force.
Nightcrawler- Teleports, then attacks.
Hawkeye- Shoots a number of arrows.
Captain America- Throws his sheild which acts as an boomerang.
Cyclops- Fires a laser.
Spider-Bird- Shoots webs, which destroyes materials and Pigs.
Iron Bird- Acts as an Bomb.
The Avian Torch- Similar to the Charcoal Bird.
Thor- Creates waves of lightning.
Gallery
Community content is available under
CC-BY-SA
unless otherwise noted.