Cerber is a mythological 3 headed bird who is in the Chemical Trio, a group of 2 special birds who despise the piggies for a reason, natrually she is much lighter than you think and appears as the same size and age as Neo and is extremely dangerous to any lifeform.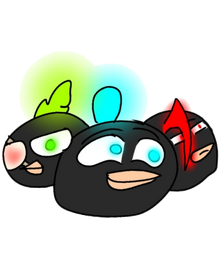 Angry Ability
Cerber the three headed bird is a strange bird and she focuses on 3 chemicals that do different effefts that do different things.
Chemicals
Actinum - A weaker version of Neo's ability but focused into one beam (Green Eye lazers)
Colbalt - A swift lazer that rapidly smashes speedily but dealing almost no damage or more likely no damage but the rapid swipes make up for it (does 900 - 1000 swipes breaking some structures, Blue Eye Lazers)
Blood - Well not really blood but the substances that make blood make a white and red beam turning sticky and can grab structures like this (Red Eye Lazers).
Backstory
This bird is the opposite of Neo, she was rich, spoilt and usually would have disrespected other people until she met Neo, In hatchling primary school, where she met her former friends, there were tournaments and in the first one Neo signed up and so did Cerber, Neo of course won. She was enraged by this and Neo started getting bullied and rushed by a flock of birds until Cerber stopped, Neo did not forgive but realised she accidentally started the drama snd after they became teenagers it reached the present!
Appearences
Angry Birds: Special War (First).
Community content is available under
CC-BY-SA
unless otherwise noted.