For the small counterpart,See the page Spike Bird. Doomspike bird is similar to bomb bird but only body.if you tap him.He will open it's spikes and smash endo instead of exploding.He appears also in Bad piggies:26th century as Bomb.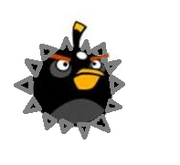 Profile
Abilities: Smash endo.

Size: Large (Bigger than white bird)

Color: Black

Shape: Circle
No Title

No Title

No information
Strength:90/100 = Strong

Sounds: Pullback: Euhh!
Launch: Kaboom!

Corpse: Ok!,Ik! Ak!

Corpse: Yes. After 5 seconds it will explode.

Transformation:Using Seeds(Black)

Best friends: Orange bird,Yellow Bird.
Community content is available under
CC-BY-SA
unless otherwise noted.