Home Sweet Home
General Info
Release Date:
July 15, 2015
Levels:
40
Episode Number:
1
Previous Episode:
None
Next Episode:
Lunar Lard
Game(s):
Angry Birds Space: The long journey home

Home Sweet Home is the first episode of Angry Birds Space: The long journey home. It takes place on the planet Earth.
Story/Levels
Story 1: After the game's beginning story, the birds look around piggy island for the bad pigs. When they find them, they have the eggs (well, of course!)! The birds, as usual, begin fighting.
Level 1 (Super Red Bird, Minion Pig, Wood, and Ice introduced)
Level 2
Level 3 (Space Blue introduced)
Level 4 (Laser Pig and Corporal Pig introduced)
Level 5 (Fire Bomb, Foreman Pig, and Stone introduced)
Story 2: The pigs, losing, have an idea. The idea is... Lasers!
Level 6 (Space Hal and Laser Pig introduced)
Level 7
Level 8 (Space Matilda introduced)
Level 9
Level 10
Level 11 (Space Stella introduced)
Level 12
Level 13
Level 14
Level 15
Level 16
Level 17
Level 18
Level 19 (Ice Bird introduced)
Level 20 (Mini Boss)
Story 3: The birds have defeated all the space pigs on Earth. Well, most of them. The Birds and Space Pigs get into their ships and fly into orbit.
Level 21 (Planets introduced)
Level 22
Level 23
Level 24
Level 25
Level 26
Level 27
Level 28
Level 29
Level 30
Level 31
Level 32
Level 33
Level 34
Level 35
Level 36
Level 37
Level 38
Level 39
Level 40 (Boss Fight!)
Story 4: King Pig and his army flee to The Moon with the eggs, with the birds following him.
Trivia
This is the only episode that pigs can't re-invade.
Gallery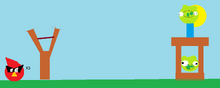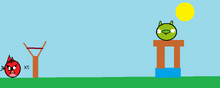 Community content is available under
CC-BY-SA
unless otherwise noted.