Ninja World is the first Episode of
Angry Birds Ninja - TV
.
Transcript
(Angry Birds Ninja TV text appears)
(Title Card appears)
Red Bird: Another day with my friends.
Ice Bird: What is that?
Yellow Bird: An old house; HEY, GUYS, COME HERE!
(French Bird comes, as a funny part of the Episode)
French Bird: Que voulez-vous? (What would you like?)
Yellow Bird: Err...nous avons trouvé une vieille maison. (We have found an old house.)
French Bird: C'est ma maison! Il est si vieux, certains disent des choses bizarres se produisent à l'intérieur! (That is my house! It is so old, some say weird things happen inside!)
Yellow Bird: Merci! Y at-il autre chose dont nous avons besoin de savoir avant de nous pencher à l'intérieur? (Thanks! Is there anything else we need to know before we look inside?)
French Bird: Oui! Soyez prudent! Certains oiseaux font des pièges à l'intérieur de là-bas. Et parfois, les oiseaux disparaissent mystérieusement! (Yes! Be careful! Some Birds make traps inside there. And sometimes, Birds mysteriously go missing!)
Yellow Bird: Merci! Que faisiez-vous? (Thanks! What were you doing?)
French Bird: Juste en regardant les nuages​​, ici aux USA. (Just watching the clouds here in the US.)
Yellow Bird: Ca semble intéressant! Au revoir! (Sounds interesting! Goodbye!)
French Bird: Au revoir! Peut-être que nous pourrions voir les uns les autres une autre fois! (Goodbye! Maybe we might see each other another time!)
Yellow Bird: Peut-être! (Maybe!)
Red Bird: Who was that?
Ice Bird: Some French Bird.
Red Bird: I only know 1 word in French.
Yellow Bird: What is it?
Red Bird: Bonjour. (Hi.)
(Flock comes)
Boomerang Bird: We are here! Say...what is THIS!? (Goes into house)
Red Bird: DON'T!
(Boomerang Bird is gone)
Red Bird: We need to save him! (Goes into house with other Birds)
(They are sent to a different world)
French Bird: Yellow Bird? Où êtes-vous? (Yellow Bird? Where are you?)
Red Bird: AAAAAAAAAH! (Crashes on floor)
Red Bird: Where am I?
(Credits appear)
(Song plays)
(Red Bird appears with the words "Redbird07 Films")
("Hawaii Matrix Films" appears)
(Twentieth Slingshot logo appears)
(Episode Ends)
Logos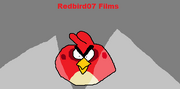 Community content is available under
CC-BY-SA
unless otherwise noted.