Propeller bird is Original to Yellow bird,He can break stone,Wood and Other textures like Glass,Ice and Walls!If you tap him,He will Go To your Tapped target but not going up, And it is not same to Lazer Bird.Because of the gravity,Path and speed.He do Slow Downs in curved Path.He Also Defeat King Pig only 3 Times bounce on.He Do 1 Gravity
Abilities:Go in the tapped Target in Curved path.
Strength:Strong
Sounds:Doodle Jump (Propeller Sound) and Yellow Bird
Corpse Sounds:Ek!Bip!Hek!Bik!Bok!Bap!Bop!
Size:Medium
Friends:None
Similarities:None
Differences:Lazer Bird
Favorite Games:Filipino Games
Language Speak:Tagalog
Apearance:Soon
Picture:
Propeller Mushroom + Yellow Bird = Propeller Bird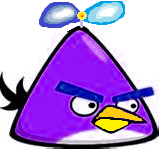 Community content is available under
CC-BY-SA
unless otherwise noted.