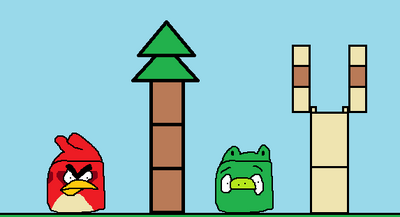 Red Bird and Pig is a
Lego Angry Birds
set.
Inside
Characters
Items
Use
Description
The Bad Piggies are stealing the Eggs! Use Red Bird to save the Eggs!
How to Use
The Slingshot has a type of Lego Brick that you can pull. It is not shown in the picture above, because it is ok to take it off. Attach the Red Bird on the Pullable Lego Brick, then pull the Brick, let go and the Red Bird flys off the Lego Brick. (Note: It is important you remove his tail. The tail has nothing to attach him to) If you want, you can replace the Pullable Brick with the extra Original Brown Brick. Then you can choose where Red Bird lands. Or, you can remove the Brick completely if you are not using it yet.
Community content is available under
CC-BY-SA
unless otherwise noted.