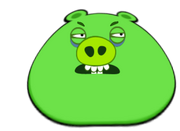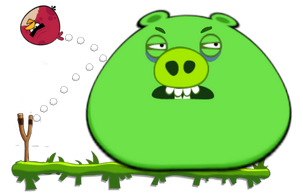 Supermassive Pig is a very, very, VERY large pig that is about infinity times the size of the multiverse. His power is infinity times greater than King Pig, and a bird would just bounce off his stomach if that bird were to aim for the stomach. Hit him on his head to do some damage. The Supermassive Pig is ugly and a pig that you probably don't want to mess with. If a bird kills the Supermassive Pig, it gets 45,000 points.
This pig is infinity/infinity on the power scale while Red Pig would be 850/1000, Obese Pig would be 670/1000,King Pig would be 550/1000, Fat Pig would be 265/1000, Foreman Pig would be 220/1000, Corporal Pig would be 200/1000, Large Pig would be 100/1000, Medium Pig would be 70/1000, and Small Pig would be 40/1000. Female Pig would be 10/1000, pathetic.
Community content is available under
CC-BY-SA
unless otherwise noted.