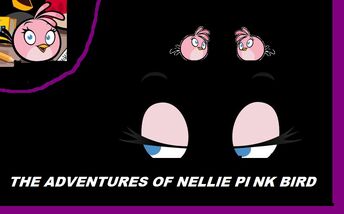 The Adventures of Nellie Pink Bird (often called "Nellie" by fans)
is an Angry Birds show about a young Pink Bird named Nellie, who just recently started school. The show takes place in the "Back to School" chapter of Angry Birds Seasons.
Characters
Principal Pig
Principal Pig (AKA King Pig) is the principal of Pig School and is the main antagonist of the series. He keeps trying to steal the bird's eggs, much like in the games.
Plusbird the Yellow Bird
Plusbird is the math teacher in Neelie's school. Plusbird is a Yellow bird with black glasses with a plus sign in the middle.
Principal the Red Bird
Principal Bird is a red bird, and is the principal of Nellie's school. He is a normal red bird with a grey shirt on.
Dr. Egg the White Bird
Dr. Egg is the health teacher and nurse in the school. Once every class has been to Health, she does his duties in the Clinic.
Si-Terrance the Teal Big Brother Bird
Si-Terrance is a Teal Big Brother Bird and is the science teacher in Nellie's school.
Readice the Ice Bird
Readice is an Ice Bird with a book on his head and is the school liabrarian. He is made out of pure ice, that is why the liabrary is so cold.
Drami, Dizzle, and Dazzle the Blue Birds
Dami, Dizzle and Dazzle are blue birds and are the drama teachers. They appear to be the nicest teachers in the school.
Blackout the Black Bird
Blackout is a police bomb bird. He wears a police hat.
Lunch the Orange Bird
Lunch is an orange bird and is the cook at the school. He can make some of the best food around!

Herb the Pink Bird
Herb is a pink bird and is Nellie's dad. He is a male pink bird and a red tie on.
Zira the Pink Bird
Zira is a pink bird and is Nellie's mom. She is a female pink bird with a star on her head.
Nellie
Nellie is a 16 year old pink bird. She seems to really like Lunch's mac an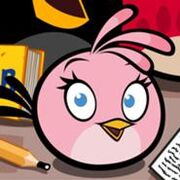 d cheese because of the extra cheese. She dislikes math and likes Drama and Science. Her mom and dad are Herb and Zira, AKA the Bird Busters. Both her mom and dad work on a TV show called "Bird Busters," where they go out to find clues about ancient birds and pigs. Nellie appearss to be interested in the "Birds of the Horrizon" books and computer games, such as Angry Birds online, and video games. She loves blowing bubbles and doing roleplays in drama, and she always gets A's from the three blue birds. She is the main character of the series. It is currently unknown if she has any freinds outside of school, because almost the entire series takes place in the school.
Gallery
Community content is available under
CC-BY-SA
unless otherwise noted.