Welcome, player!
Are you ready to Puzzle PARTY?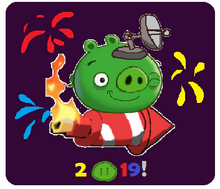 What is The Blue's New Year Bash?
The Blue's New Year Bash is the first of the twelve puzzle parties held in 2019- one for each month. It's like Hal's Christmas Puzzle Party gameplay-wise. Be on the lookout for Puzzle 1, and also the other Puzzles. There will be at least 10 for this Party.
Challenges
Challenge #1
It was the day before the New Year, 2019. The birds were getting ready for the festives when suddenly a green, snorting Minion Pig popped up. So the playful Blues decided to take care of the oinking menace obviously set on getting the eggs.
Battle Info:
Birds
The Blues' Firework: Targets 3 pigs, and each pig takes 3 damage.
Pigs
Minion Pig: Has 2 health. That's it...how weak!
What's Next?
(Will be revealed at the end of the Puzzle Party)
Hint: One giggling gallah had to beat an oriole to get to this box of Valentine's surprises...
Community content is available under
CC-BY-SA
unless otherwise noted.